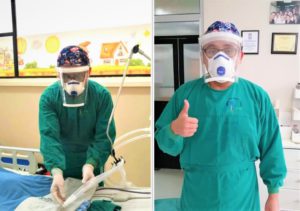 In the face of the global health emergency that has paralyzed the country due to the infection of more than 1,403 people, the Salesian Polytechnic University of Ecuador (UPS) took the initiative of students and teachers, along with the Universidad Tecnológico Particular de Loja (UTPL) and the Pontifica Catholic University of Ecuador (PUCE), to design and manufacture face masks for the protection of medical personnel.
The UPS supports this proposal through the "Youth for a Better Ecuador" (JOPEM) foundation and the Technical Secretary of Society Linkage, organizations that have been articulated to support the men and women who fight for public health with technical development and research, putting at their service equipment, raw materials and interinstitutional management.
To this cause are added students and research professors from different careers such as biomedicine, biotechnology, mechanics and student managers of Coworking StartUPS;as well as, former UPS students, and medical specialists of the city: Dr. Pablo Peña (Neurosurgeon) and Dr. Mateo Torracchi (Specialist in respiratory diseases) who have extensive experience in the clinical application of 3D printing; likewise recognized companies of the city such as Signal X Cía. Ltda. and Pasamanería S.A. (PASA) who in addition to providing materials to produce masks, have also joined in the search for immediate solutions in favor of health.
This cooperative work consists in the design, processing and donation of face masks and eye protectors with the use of 3D printers of different ranges; the first shipment was given to the Benemérito Corps of Firefighters of Cuenca and this week it was also given to the Ministry of Health (Zonal Coordination 6) and Red Cross; in the coming weeks other cities will also be provided with masks.
The group of volunteers, in addition to the masks, are prototyping other patient care supplies such as: fans, laryngoscopes, disposable stethoscopes, among others, because "we are aware that a health collapse is likely to be reached due to lack of resources, therefore, we seek to solve this situation with these materials hope that they will be soon at the service of the health workers".
This project invites citizens with 3D printers, acrylic or acetate sheets and PLA material to join this initiative as a service of society.
.
By: María José Llanos C. – Vicerrectorado de Investigación- UPS Cuenca
Quito, Ecuador – April 7, 2020
Source: ANS – "Agenzia iNfo Salesiana"