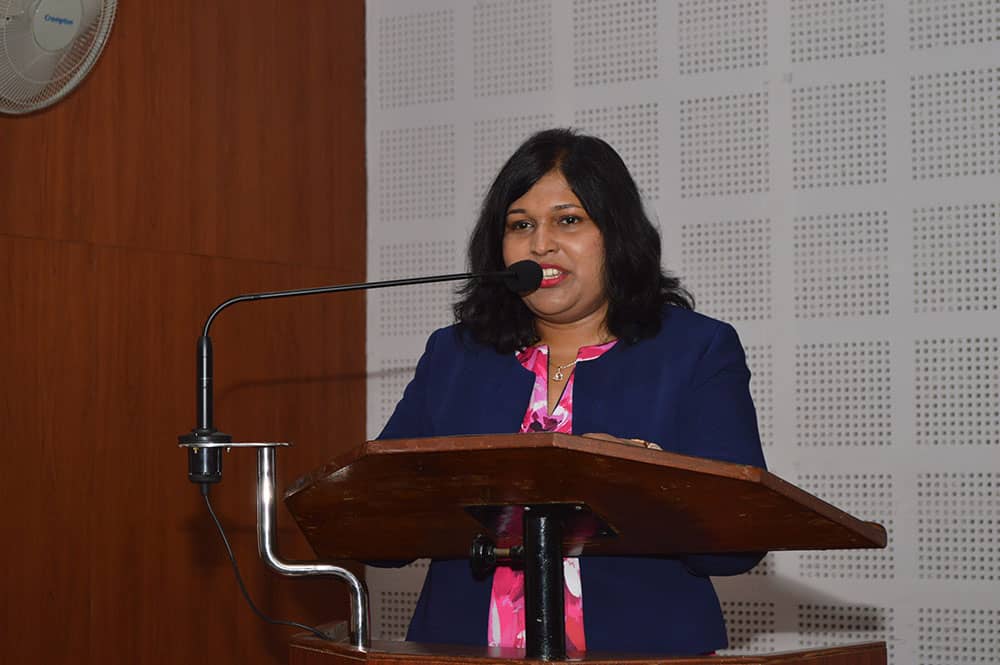 (Don Bosco Arts & Science College, Chennai) – Don Bosco Arts and Science College, witnessed an inspiring and empowering event on September 4, 2023, as they welcomed Councillor Dr. Monica Devendran, the Mayor of Amesbury and Unitary Councillor for Amesbury West, UK, to deliver a motivational talk on the theme of "Empowering Women to Launch Overseas." The program was coordinated by Fr. Raj Kumar, Dr. Xavier (the Principal), Fr. Sagayraj Kasi (Vice-Principal), Fr. Ernest (the Director), Fr. Joe Anand, and Dr. Marcus (the Director of DICE). The Program coordinator Prof. Jesintha Mary and Prof. Alen.
Dr. Monica Devendran, also known as Dr. Charulatha Devendran, is a trailblazing leader who has made history as the first British Indian from Chennai to represent historic Amesbury in the County Hall. Her remarkable journey is a testament to her academic excellence, entrepreneurial spirit, and commitment to public service.
Starting her academic journey at CSI Ewarts in Purasawalkam, Chennai, Dr. Devendran excelled in her studies. Her passion for dental surgery led her to the Meenakshi Ammal Dental College, where she received recognition for her groundbreaking research, including an award for her work on the Role of Dental Caries with ABO Blood Groups.
After completing her studies, Dr. Devendran worked as a Dental Surgeon in India before relocating to the UK. Her entrepreneurial drive led to the establishment of Graviton International in 2014, a renowned organization in Europe that connects industry leaders and professionals through research-based flagship events in various sectors.
In addition to her impressive entrepreneurial ventures, Dr. Devendran holds the prestigious position of President of the World Dental Council. Under her leadership, the council has successfully organized global dental conferences and exhibitions, including a landmark event in Chennai, India, which saw the participation of over 1500 delegates from around the world, including the Hon'ble Governor of Tamil Nadu.
Beyond her contributions to the dental field, Dr. Devendran also serves as the President of the International Awards of Excellence. This organization hosts award ceremonies at the British Parliament to recognize and celebrate industry leaders and professionals who have excelled in their respective fields.
Dr. Devendran's dedication to public service was further evident when she was nominated by the Conservative Party to stand as a Unitary Councillor representing Amesbury West. In a competitive race against candidates from other parties, she secured an impressive majority of 62.5% of the vote share, making history as the first Indian-born British Citizen to do so.
During her talk at Don Bosco, Dr. Devendran emphasized the importance of resilience, hard work, and self-reliance, particularly for women aspiring to launch their careers overseas. She passionately stated that women can achieve remarkable feats through dedication and determination, a philosophy she has embodied throughout her own remarkable journey.
Dr. Devendran attributes her success to her supportive family, who have been instrumental in bringing out the best in her. Her unwavering belief that "I can do all things through Christ who strengthens me" has been the driving force behind her achievements, and she continues to inspire and empower others to strive for excellence.
The event at Don Bosco Arts and Science College served as a source of inspiration for students and attendees, reaffirming the limitless potential that individuals can achieve when driven by passion and determination. Dr. Monica Devendran's story is a shining example of what can be accomplished through hard work, resilience, and unwavering faith.
Source: Don Bosco Arts and Science College, Kilpauk, Chennai