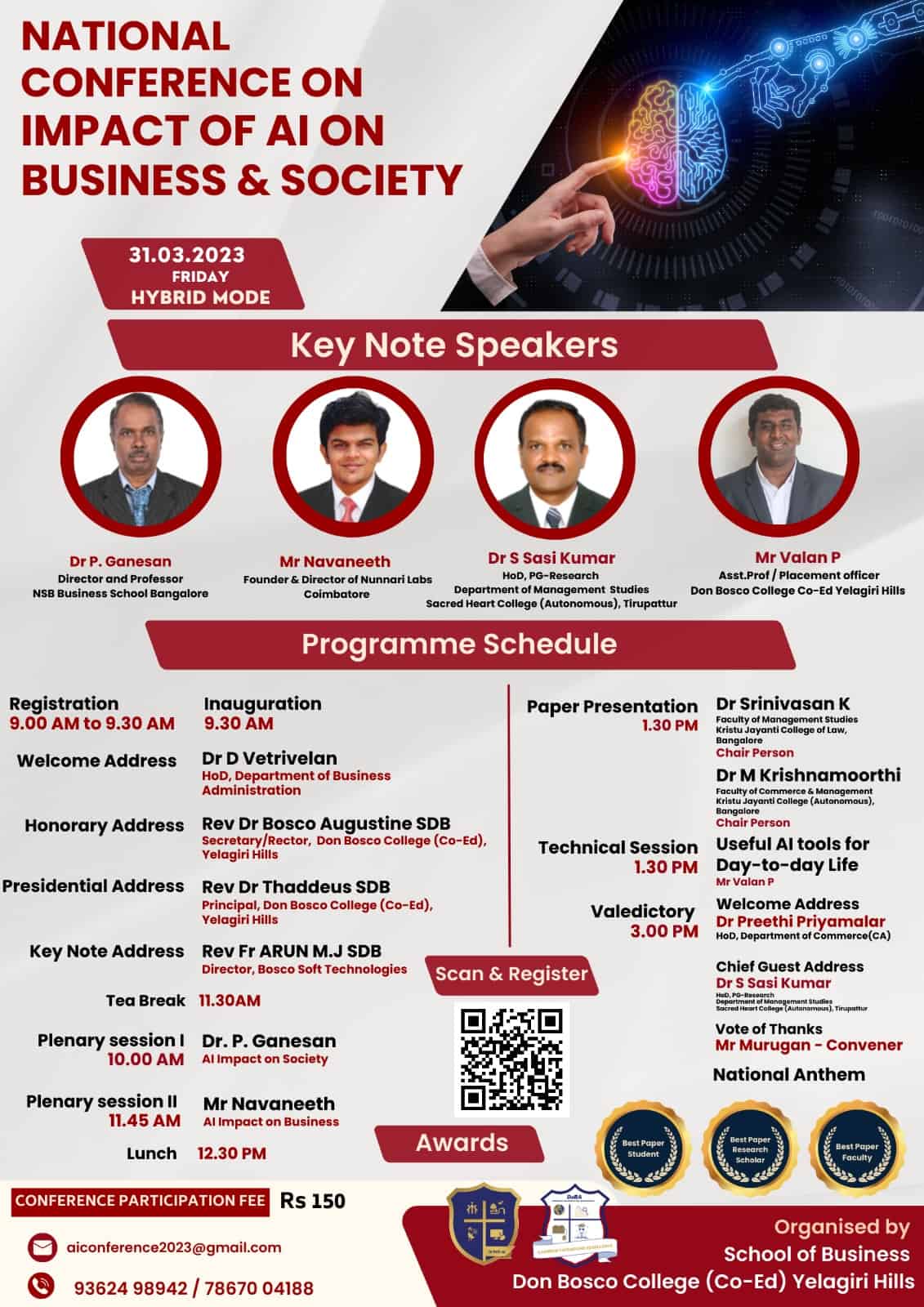 (Don Bosco College, Yelagiri Hills) – Don Bosco College Yelagiri Hills is a minority institution, managed by the Salesians of Don Bosco, Chennai Province and affiliated to Thiruvalluvar University, Serkkadu, Vellore. It was a heavenly intervention that BICS InfoTech was promoted to Don Bosco College on the Golden Jubilee of Fr. Guezou's arrival at Yelagiri Hills. The college has a decade of expertise in higher education and the institution comprises seven major departments that provide study programmes to a total of 1200 students.
School of Business
The two departments within the School of Business, namely Commerce (CA) and Business Administration, are closely aligned and work together to provide students with a cohesive and synergistic learning experience. A cohesive approach to education enables students to develop a deep understanding of the interrelationships between different aspects of business and prepares them for careers in a wide range of industries. Additionally, the synergy between these two departments also provides students with a unique perspective on the challenges and opportunities faced by businesses in today's global marketplace.
About the conference
AI is transforming industries and creating new opportunities. It has the potential to revolutionize the way we live, work and interact with each other. The conference aims to explore the social, economic, and ethical implications of AI on business and society. The purpose is to create awareness, promote discussion, and develop strategies to harness the potential of AI for the betterment of society.
Conference Objective
The objective of this one-day national conference on the impact of Artificial Intelligence (AI) on Business and Society is to bring together industry experts, researchers, academicians, and policymakers to discuss the latest developments and trends in AI technology and its implications on businesses and society.
The conference aims to provide insights into the opportunities and challenges of AI adoption, explore its ethical and social implications, and suggest strategies to maximize the benefits while mitigating the risks.
Awards
Three awards will be given for the best paper in the student, research scholar and faculty category.
Conference Publication
All Selected research papers will be published in ISBN Edited Book
Main Theme
Impact of Artificial Intelligence on Business and Society
Sub Themes
• AI and its impact on the job market Ethical and Social Implications of AI
• AI Education and Training
• AI and business: how AI is transforming industries and creating new opportunities
• AI and the future of work: re-skilling and up-skilling the workforce
• AI and society: the social and economic implications of AI
• Business Intelligence & Financial Intelligence
• E-Business
• Entrepreneurship
• Internet-Of-Things
• Mobile Commerce & Social Networks
• Chatbot Marketing
• Social Media
• Privacy & Security in the digital world
• AI-driven economy
• Gamification
All papers related to management domain accepted
Paper Submission Procedure
• Authors should submit their original, unpublished research papers.
• Papers should be submitted in MS Word format and should not exceed 2500 words
• The text should be typed in Times New Roman, font size 12 and all text should be one-and-a-half line spaced and fully justified.
• The heading should be boldfaced in font size 14, the subheading boldfaced and in font size 12 Each page should be numbered at the bottom on the right side.
• References should be in APA format.
• The plagiarism Report should be attached to the Paper consisting of 80% originality.
• Verifiable sources for the secondary information are to be given The cover page should contain the title of the paper, author(s) name and affiliation, and contact details including mobile number and e-mail address.
• If the paper is co-authored by more than one, all the authors need to be registered individually.
Important Dates
a) Last date for paper submission is 25.03.2023
b) Last date for paying registration fee is 28.03.2023
CONFERENCE FEE
• Participation only UG/PG Students: INR 150
• Research Scholar/ Faculty: INR 300
• Industry/Corporate: INR 500
• Registration fee per Author Students/Research scholar: INR 1200
• Faculty: INR 1500
• Industry/Corporate: INR 2000
• For International Participation – USD 10 & Publication USD 25
Registration Link
https://forms.gle/9C4ZTaGP7mByPkh38
College Website
Contact
Paper Submission Mr Murugan G +91 93624 98942
Accommodation & Sightseeing Mr Valan P +91 78670 04188