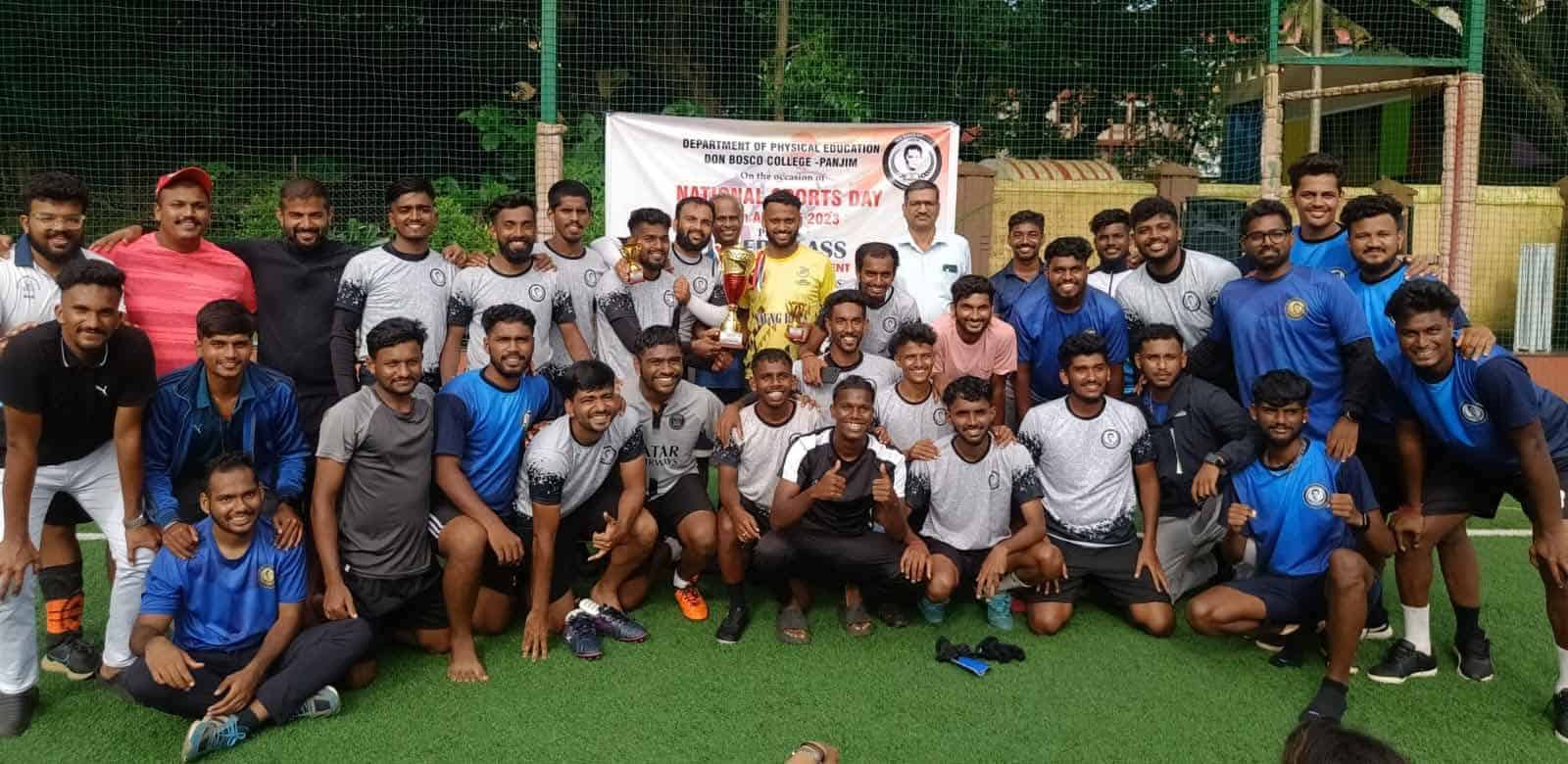 (Don Bosco College, Panjim) – Don Bosco College, Panjim, department of Physical Education organized a 9 A Side Men's and 7 A Side Women's tournaments at Don Bosco College campus, Panjim on August 29, 2023, to celebrate National Sports Day on the occasion of Major Dhyan Chand's 118th birth anniversary. The event was attended by 215 students and staff of the college, including teaching and non-teaching staff.
Chief Guest, Director, Don Bosco College, Panjim, Father Joaquim Lobo and Dr Ajith Gopi's motivational words to all participants set the tone for a day of competitive sportsmanship. The Sports Secretary of College Shashi Sahani along with all participants took a pledge to take out 30 minutes every day for fitness and health.
The DBC Panjim tournament consisted of 15 matches in Men's category and 6 matches in the Women's category to determine the champions of the tournament. In the Men's category final encounter, S.Y. B.P.Ed emerged as champions, while F.Y.B.C.A became runners-up of National Sports Day. In Women's Category, B.P.Ed defeated B.A and B.Com Department in the finals to become the Champions of the tournament.
The following students were encouraged with individual prizes based on their performance in the tournament, Best Striker, men's, Prakshay Simepurushkar and women's, Thais Mascarenhas. Best defender men's, Nitesh and women's, Aaroshi Govekar. Best goalkeeper men's, Hrushikesh Kinlekar and women's, Shaina Silveira. Best Mentor men's, Palash Raikar and women's, Velerie Carvalho. Player of the tournament men's, Wesley D'sa and women's, Sushmita Jadhav.
The tournament was smoothly organized by the B.P.Ed students under the leadership of Sports Secretary, Shashi Sahani and the valuable guidance and support of Dr Ajith Gopi Co-Coordinator of Department of Physical Education, Event In charge, Sachin Parsekar, Nehal Mandrekar and Prissie Fernandes.
Source: Salesians of Don Bosco, Province of Panjim, Goa