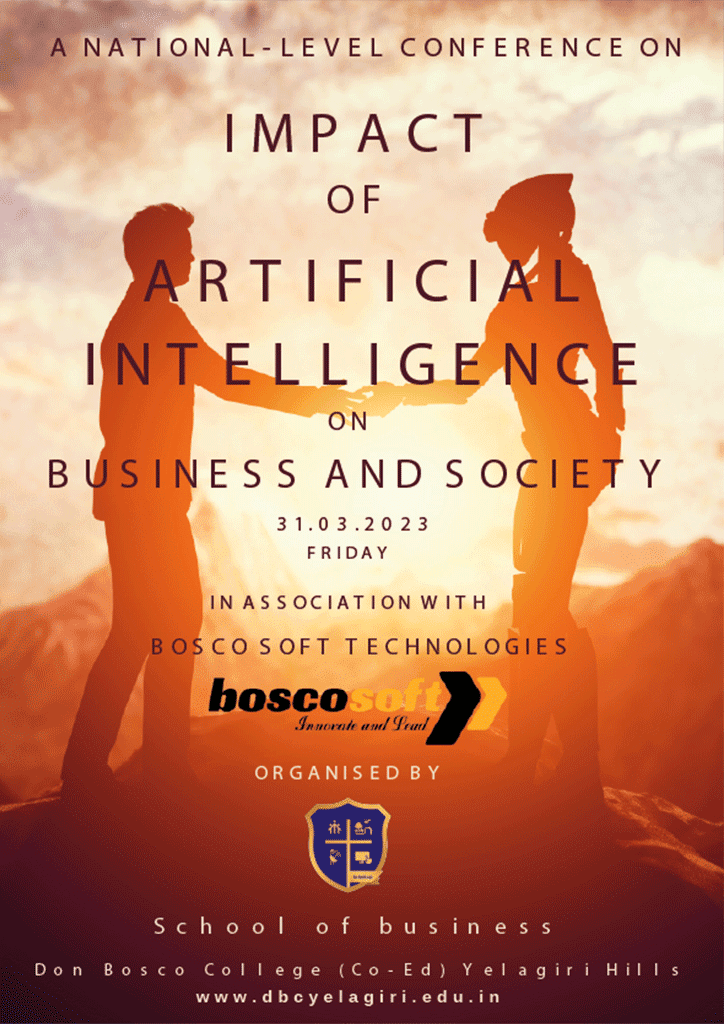 Dear Faculty / Students / Friends
Greetings from the School of Business!
We are delighted to inform you that the School of Business at Don Bosco College in Yelagiri Hills is hosting a National Level Conference on "Impact of Artificial Intelligence on Business and Society" on March 31, 2023 (Friday), followed by a special sightseeing event on April 1, where participants can explore the beautiful tourist attractions in Yelagiri Hills.
Please find enclosed a brochure that provides all the essential details about the conference. We would like to draw your attention to the following
important dates:
• Last Date for Submission of the Full Paper: March 25, 2023
• Last Date for Payment and Registration Fees: March 28, 2023
As a participant, you will benefit from the following key takeaways:
• Publication in an ISBN Book
• Best Paper Award
• Opportunity to Network with Like-minded Individuals in the Field of Management
• Enhanced Visibility through Various Publicity and Promotional Materials
• Conference Kit and Certificate of Participation
We look forward to your participation in the conference and hope you will have an enriching experience.
Thank you for your consideration.
Sincerely,
Valan P
Assistant Professor/Placement Officer
Don Bosco College (Co-Ed) Yelagiri Hills