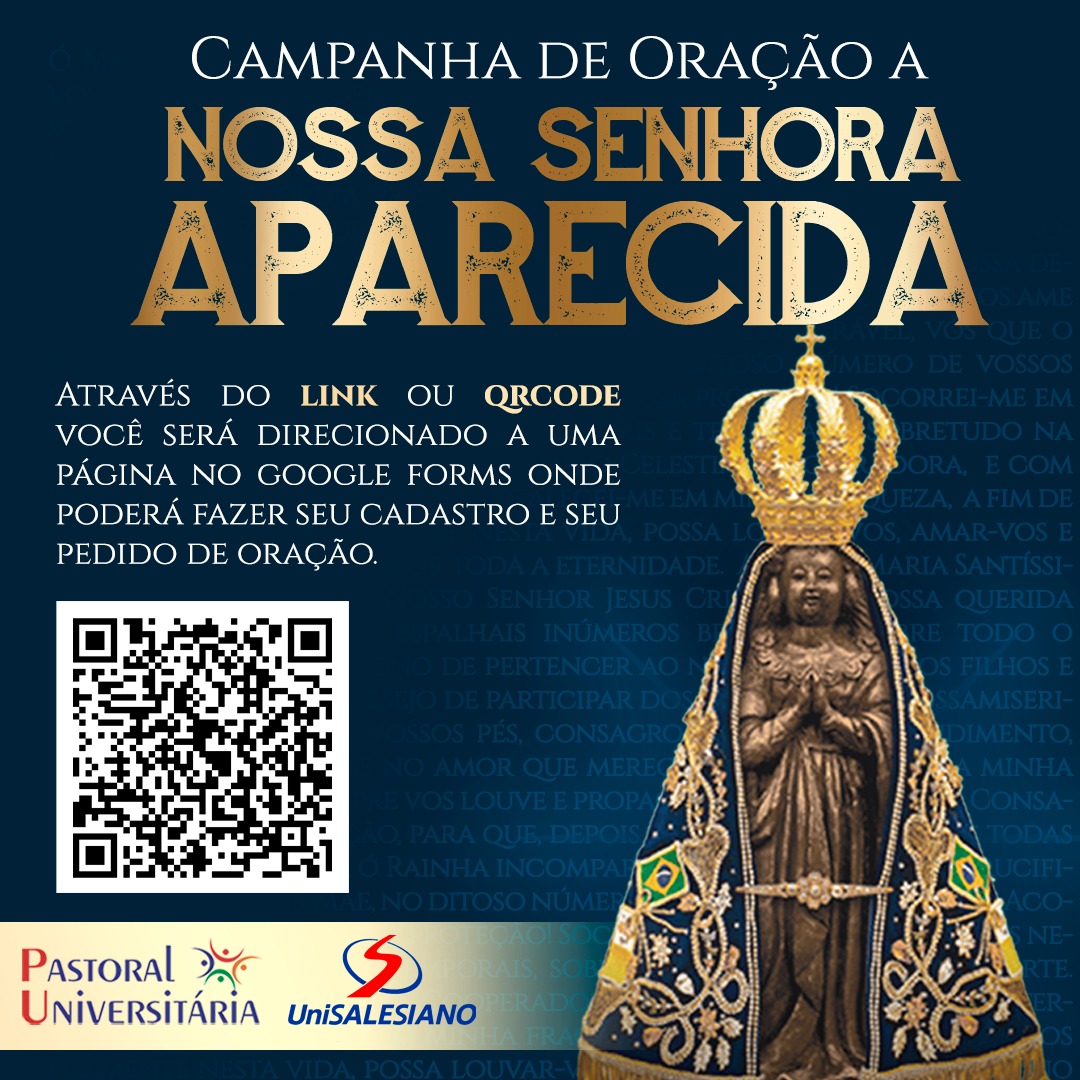 (UniSALESIANO, Araçatuba e Lins) – This year would mark the 6th time that UniSALESIANO holds the largest University Pilgrimage in Brazil. But on this occasion differently because of Covid-19. For the 6th edition, the Rectory and the University Pastoral of UniSALESIANO have created the " Campaign of Prayer to Our Lady Aparecida"..
The Rector of UniSALESIANO, Fr. Luigi Favero, affirms that the pilgrimage to the house of Our Lady is an important date because Our Lady is the patron saint of the UniSALESIANO University Center. "Naturally, this year, in a different way. In the past years, we would arrive with up to 15 buses full of students, representatives of teachers, and collaborators, that gathered to visit Aparecida. But, due to the current situation in which we find ourselves because of the pandemic it was suggested that we change the form to protect everyone's health ", explained the Rector.
"So, as Rector I ask that in those days that we go, people unite, and send us messages, which we will place at the feet of Our Lady Aparecida so that she continues to protect us", added Fr. Luigi.
The Prayer Campaign to Our Lady of Aparecida intends to gather requests for prayers from the academic and local community, which can be made through an online form, to then be taken to the Basilica of Nossa Senhora Aparecida.
The requests will be taken personally by the members of the Rectorate: the Rector of UniSALESIANO, Fr. Luigi Favero, the Vice-Rector, Fr. Paulo Vendrame, and the Pro-Rector of Pastoral, Fr. Erondi Tamandaré. The trip to Aparecida should take place between October 17th and 18th – one week after the solemn date of Nossa Senhora Aparecida, October 12th.
Fr. Erondi said that all great religions have a sacred place and to go to them is in the precepts.
"It is not far from us. And UniSALESIANO has this tradition of taking its students, who are interested, regardless of the religion they follow, and experiencing a moment of transcendence in the National Sanctuary of Aparecida "

– Fr. Erondi Tamandaré
Those interested in making their prayer requests should go to the UniSALESIANO website – www.unisalesiano.com.br and fill out the form, which is also available through QRCode.
Posted by: Monique Bueno de Oliveira