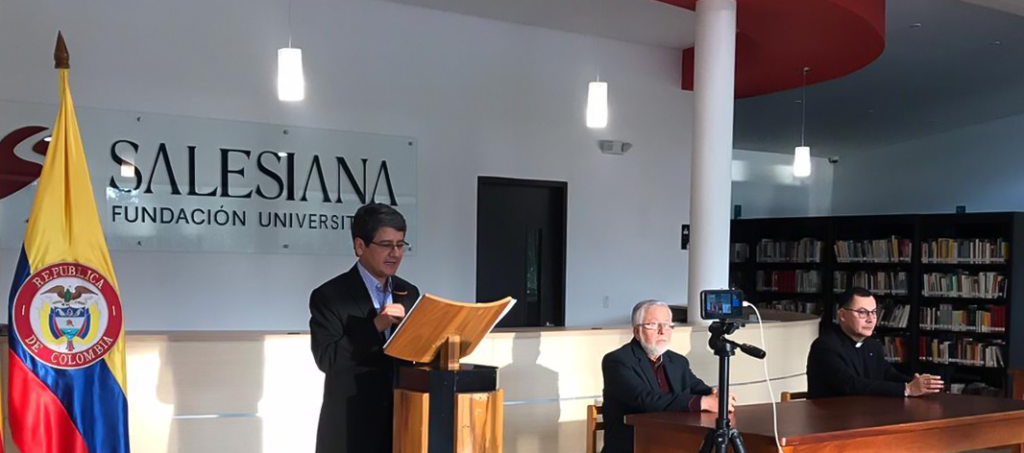 (Fundación Universitaria Salesiana, Bogotá) – Information and communications technologies (ICTs) to stay permanently in educational processes as a result of a developing trend in recent years. This trend was strengthened in recent months with the appearance of COVID-19.
To deliver the best use of these tools while analyzing the new changes of pedagogical methods due to the pandemic. the Fundación Universitaria SALESIANA and Federal Ministry of Economy and Energy of Germany along with Don Bosco Mondo, introduce the postgraduate diploma "Uses of ICT in teaching processes".
The activity began on September 1, 2020, and will continue until November 30 of this year is directed at 120 teachers, instructors, and collaborators of the Salesian Network of Schools and centers for professional development
"Critical reflection on the educational possibilities and uses of ICTs is necessary so that, by implementing them into formative processes, they can represent innovation and a transformation in traditional pedagogical methods,"

– Fr. Leonardo Gómez Hernández, Rector of the University
This experience will allow participants to recognize the potential of new technologies in the field of vocational-technical training, placing them and giving them meaning in the pedagogical context that is inspired by the Salesian Charism.
The teachers of the diploma "Uses of ICT in teaching processes" are José Ricardo Amórtegui (master in Application of New Technologies in Education), Luis Bernardo Peña Borrero (dean of the Faculty of Education of SALESIANA), and Oscar Eduardo Motta Barrera (Director of Information Technologies of SALESIANA).
The activity will last 80 hours, 30 of which will be asynchronous; 20, synchronous; while the other 30 will correspond to independent work carried out by the participants.
Learn all the information about the diploma "Uses of ICT in teaching processes".
Posted by: Alejandra Rojas