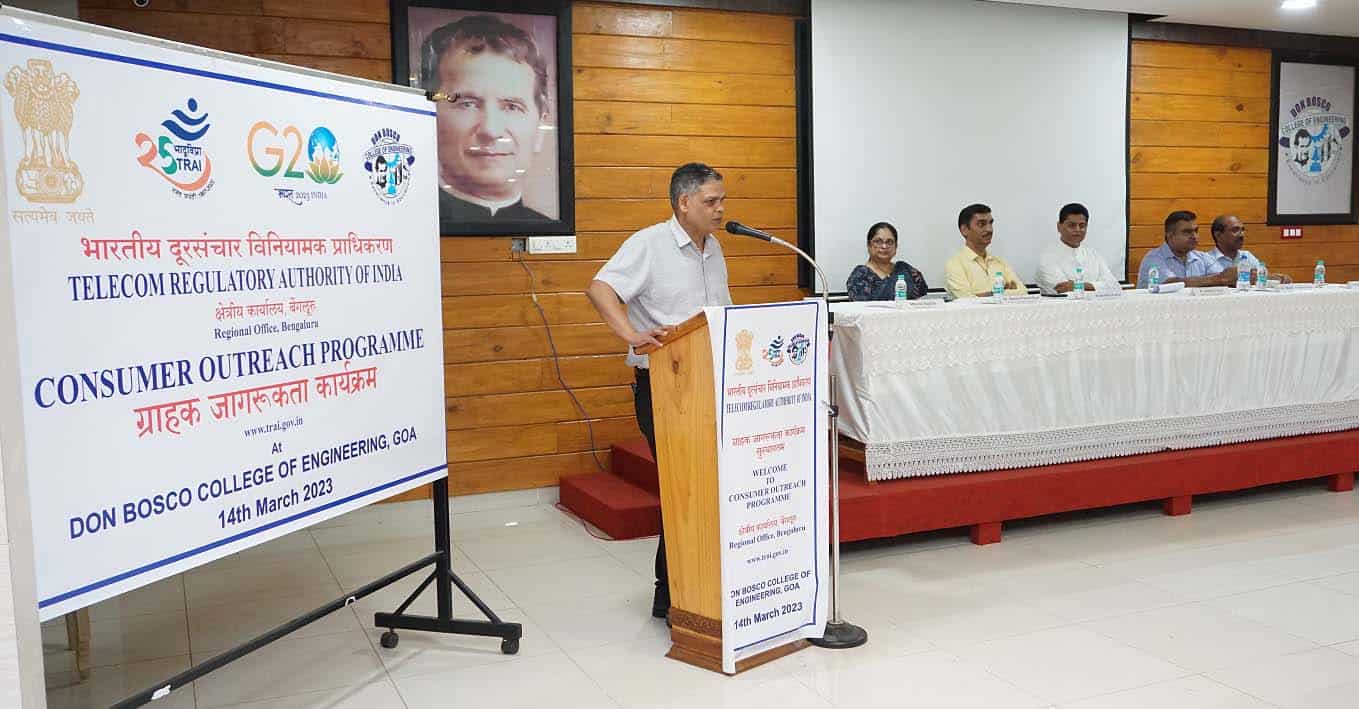 (Don Bosco College Of Engineering, Fatorda) – A Consumer Outreach Programme was conducted by the Telecom Regulatory Authority of India (TRAI) at Don Bosco College of Engineering (DBCE), Goa on March 14, 2023 in association with the Department of Science & Humanities, DBCE.
Joint Advisor, TRAI, Bengaluru Manish Raghav, began the event with a broad overview of the programme. Principal, DBCE, Dr Neena Panandikar, welcomed the gathering and expressed her gratitude to TRAI for conducting the programme at DBCE. Director, DBCE, Father Kinley D'Cruz, speaking on the occasion said, Consumer rights protection and consumer grievance redressal is important for any company to survive and grow. He highlighted the important role played by TRAI in the field of telecom regulation.
Advisor, TRAI, Bengaluru, Brajendra Kumar, in his session said, the mandate of TRAI is to safeguard the interests of both the consumers as well as the telecom service providers. He spoke about many interesting topics including mobile number portability, cyber frauds, fear of tower radiation, etc.
Principal Advisor, Digital Infrastructure Providers Association (DIPA), New Delhi, Col. (Retd) Kapil Handa in his session spoke on the topic of, Evolution of 5G Tech, Challenges and Roll out. He enriched the audience with an engaging presentation on the evolution of Telecomm services right from 1G to the currently launched 5G. He said, the telecom field has evolved very rapidly and India has always ensured that it is on par with the global technology growth. Key capabilities of 5G, the requirements of 5G networks and the associated challenges are some other topics on which he spoke. This was followed by a Q&A session.
The programme was attended by 130 faculty and students of first year Computer Engineering and Electronics and Computer Science (ECS) of DBCE. Also present was Registrar and Head of Department of Science & Humanities, DBCE, Dr Kala Nayak, and Joint Advisor, TRAI, Bengaluru, K. Chandra Choodan.
Representatives of telecom service providers Jio, Airtel, VI and BSNL, also attended the programme and gave brief presentations about their telecom services.
Assistant Professor, DBCE, Harison Cota, FY ECS student, Reaiah Fernandes also spoke on the occasion.