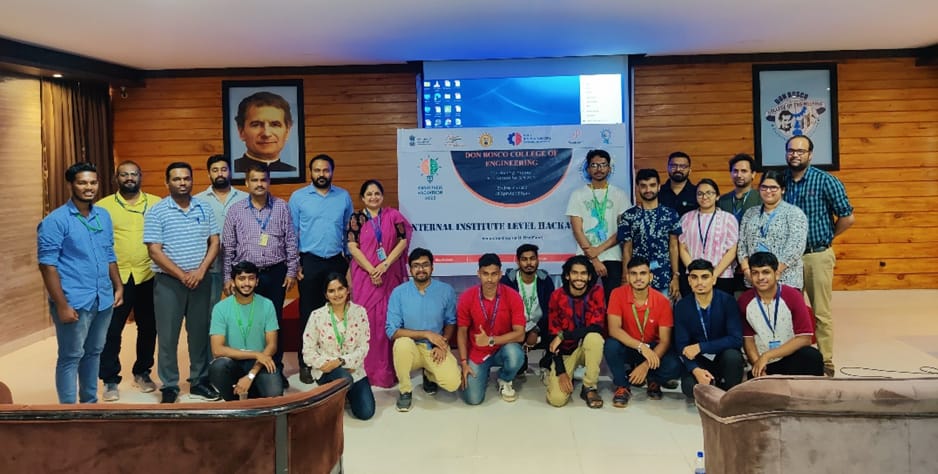 (Don Bosco College Of Engineering, Fatorda) – Smart India Hackathon (SIH) 2022 is a nationwide initiative to provide students a platform to solve some of the pressing problems we face in our daily lives, and thus inculcate a culture of product innovation and a mindset of problem solving. In SIH 2022, the students would have the opportunity to work on challenges faced within various Ministries, Departments, Industries, PSUs and NGOs to create world class solutions for some of the top organizations including industries in the world, thus helping the Private sector hire the best minds from across the nation.
Don Bosco College of Engineering (DBCE) organized an Internal Institute Level Hackathon to shortlist the teams to participate in the national level competition. The hackathon was open to students of all years and branches.
The Internal Institute Level Hackathon was held on March 23, 2022 at Don Bosco College of Engineering , Fatorda. A total of 19 teams participated in the event. The teams comprised of students from Mechanical, Computer , Electronics & Telecommunication and Civil Engineering respectively. The jury members for the event were Mr. Mangirish Salelkar, Founder President-Goa Technology Association and CEO-UMANG , Mr. Thejus Joseph, COO- FiiRE , Mr. Sachin Kale, Founder Stanza Infotech and SK Group and Mr. Sachin Turi, Assistant Professor from Dept. of Mechanical Engineering ,DBCE. The panel was impressed with the innovative ideas presented by the students. The judges provided valuable inputs and feedback to the student participants. The event was also graced by the presence of Dr. Neena S.P. Panandikar, Principal, DBCE ,Dr. Suraj Marathe, President, IIC ,Dr Shreyas Simu, Assistant TPO, DBCE ,Dr Amrita Naik , Assistant Professor from Dept. of Computer Engineering, DBCE and Mr Sudip Faldesai, Project Officer Goa State Innovation Council who motivated all the participating teams and gave valuable suggestions.
The event was organized by Mr. Swapnil Ramani , Assistant Professor from Dept. of Mechanical Engineering, DBCE & SPOC-SIH 2022 and Mr. Selvyn Fernandes, Assistant Professor from Dept. of ETC Engineering & Co-Ordinator-Internal Hackathon SIH 2022.
Out of these 15 Teams, 2 Teams namely Green Ribbon Army with team members: Carson Rodrigues (Team Leader), Oysturn Vas, Rea D'Souza ,Druvi Tendulkar, Yash Karapurkar and Jaysel Silveira and team Syntax Terminators : Nishil Hoogar (Team Leader), Rafath Umaimath, Nicole Fernandes , Sayed Tabib Ashraf, Nitya Pai and Shannon D'silva.
Team Green Ribbon Army has developed a solution for the problem statement "Mental health and well-being surveillance, assessment and tracking solution among children" floated by the Department of School Education & Literacy (DoSEL), Ministry of Education. The team was mentored by Dr. Vivek Jog and Prof. Amey Kerkar (Dept. of Computer Engineering).
Team Syntax Terminators have developed a solution for "System for an efficient and transparent process of buyer-seller interactions, provision for creating niche product offerings for SHG groups for all areas" floated by Ministry of Rural development. They were mentored by Dr . Amrita Naik and Prof. Swetha Morajkar (Dept. of Computer Engineering).
The following 15 teams were shortlisted : Solutionism at its finest, Green Ribbon Army, Team Apogee, Team Aether, The MVP's, Team Eagle, Void Mains, Brain Drain, Dynamites ,Grey Space, Mind Plug, Syntax Terminators, Abyuday, Unknown Variables and Team Explicit.
In the Grand Finale the teams will compete with other selected teams from across the country for the chance to win the grand prize and for their ideas to be developed at the respective ministries.
Source: Don Bosco College of Engineering