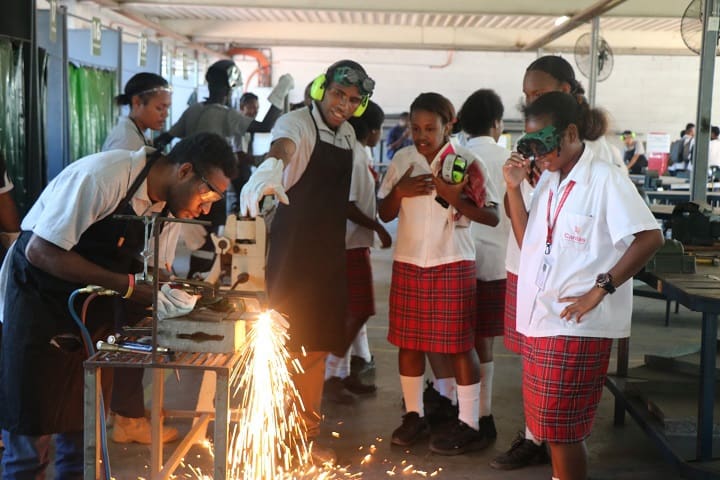 (Don Bosco Technological Institute, Port Moresby) – A lot of buzz has been generated around the most anticipated week on the calendar of the Don Bosco Technological Institute. This week is known as Don Bosco and Foundation Week Celebration. And on Tuesday, the 15th of August 2023 marked the opening of the open house and trade skills competitions activities.
For the open house, schools from all over Port Moresby were in attendance. Malolo International School, Kila Kila Secondary School, Charles Lawanga Secondary School and Caritas Technical Secondary School were present in the said event. The students of these schools were toured around the DBTI Campus. They visited the different workshops of Automotive, Metal Fabrication and welding, Machine Fitting and maintenance, Electronics, Electrical, Information Technology and Instrumentation Technologies where they received a quick presentation and demonstration by the DBTI students themselves of what would be in store for them if they will join DBTI next year.
There was a lot of noise coming from each workshop. However, this did not faze the students as it only seemed to only fuel their interest in each demonstration even more. This was a sight to behold as young enthusiastic Bosconians had the pleasure of sharing their knowledge and displaying their skills for all to see.
As for the trade skills competitions, DBTI students were given a variety of tasks to complete in a given amount of time. This tested their ability to work under pressure when facing new challenges. The visiting students from Secondary Schools were amused and were invested in these activities which made their tour more engaging.
The open house and trade skills competitions were a huge success. The students gave feedback on their experience here and said that they were very satisfied with the presentations given to them. The schools as a collective whole were very satisfied with what DBTI had to offer too! Not only does this allow young Bosconians to show off their amazing skills but this also opens a new door for students from other schools who want to pursue their tertiary education right here at DBTI.
This year's open house and trade skills competitions was a delightful event and we can only hope for many more to come.
Source: BoscoLink