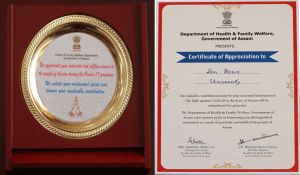 (Don Bosco University, Guwahati) – The Government of the State of Assam awarded a plaque and a commendation certificate in recognition of the University's contribution during the Covid-19 pandemic. The largest building on the campus was converted into Covid19 Care Center, facilitated with 350 beds to treat people infected with Covid19. The Certificate reads:
"The valuable contribution made by your esteemed institution in the fight against Covid19 in the State of Assam will be remembered for posterity. The Department of Health and Family Welfare, Govt. of Assam takes utmost pride in honoring your distinguished institution as a mark of gratitude on behalf of the people of Assam".
Apart from this, Assam Don Bosco University carried out several activities during the pandemic such as
• Distributing of food packets in the neighborhood.
• Providing Counselling services to promoting mental wellness
• Conducting of Online classes as well as Online examinations for the students pursuing various programmes in the University.
Posted by: Nissi Paul