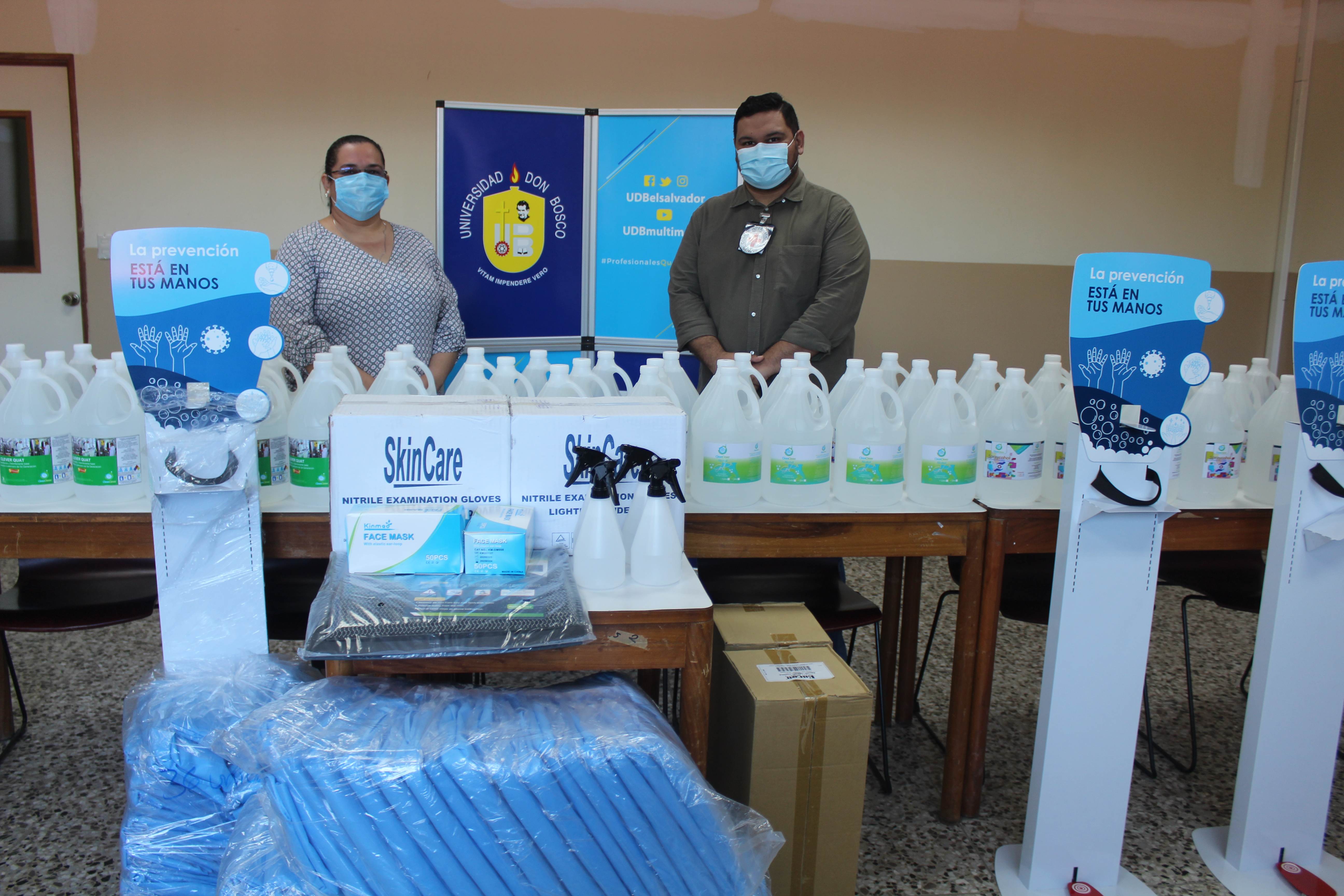 (Universidad Don Bosco, San Salvador) – The International Committee of the Red Cross (ICRC) donated personal safety supplies for the Faculty of Rehabilitation Sciences at the Universidad Don Bosco (UDB). The supplies will be used to carry out medical attention and academic activities once students return to the campus.
This donation is part of the agreement between the UDB and MoveAbility, now under the name "International Committee of the Red Cross."
The donated supplies included are alcohol and gel dispensers, digital thermometers, sanitizing mats, masks, face shields, and eye protection glasses. All these measures are implemented within the biosafety protocol that the University currently performs.
"The ICRC has supported us with various initiatives that are focused at conducting a better formation, and in this case, the donation complements the actions and investments that as a University we carry out to respond to the current situation and continue our activities. "

– Mónica Castaneda, vice dean of the Faculty of Rehabilitation Sciences.
As a Faculty, she also affirms they are prepared with strict biosafety measures for students to carry out their laboratory practices on campus, once it is authorized by the Ministry of Education, Science, and Technology.
Cooperative work
For more than 10 years the Faculty of Rehabilitation Sciences and the School of Orthotics and Prosthesis have been partners in the various rehabilitation programs that the International Committee of the Red Cross has carried out in the region.
This cooperation has allowed a series of initiatives to be carried out that seek to influence the continuous improvement of the physical rehabilitation sector in Latin America and strengthen the capacities in the area of training technicians and professionals in orthotics prosthetics at the UDB.
For Oscar Bermúdez, administrator of the ICRC's Physical Rehabilitation Project; education is closely linked to the provision of services in the rehabilitation area. With the integration of education, the greater the benefit, both for professionals and people with disabilities.
This collective work has also strengthened the team's professional development from the Faculty of Rehabilitation Sciences, with the ICRC's support in various training projects.
Posted by: Erika Vanessa Méndez