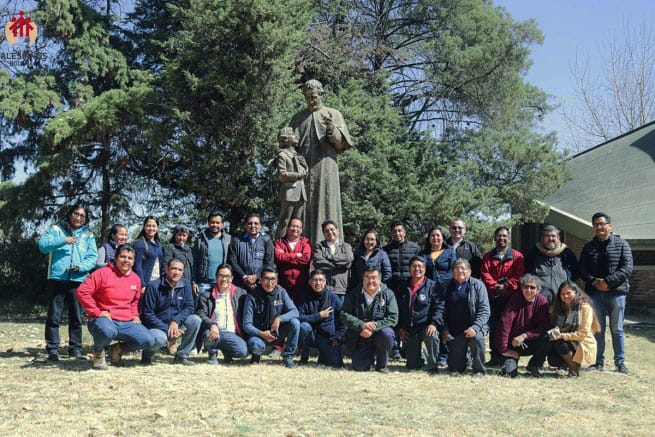 (Universidad Salesiana de Bolivia, La Paz) – On Wednesday, June 29, and Thursday, June 30, the final phase of preparation for the Salesian Educational Pre-Congress took place at the "Don Bosco Fatima" event center with the participation of 25 people including Salesians and lay representatives from the Salesian University, Vocational Training Centers, Don Bosco Popular Schools (EPDB), the Provincial Office of Planning and Development (OFPROBOL), the Salesian Youth Movement, Youth Ministry, and the FMA.
This planning event was based on the methodology of listening, reflection, and "journey", or walking together, and was divided into three distinct moments.
– Listening: the Salesian educational experiences of those in charge of education and youth ministry were shared. Statistics and challenges facing the Salesian educational sector were illustrated;
– Reflection: the Salesian educational reality in Bolivia was reflected upon, from a historical, administrative, pedagogical, social, and ecological point of view, the protection of children and youth, the Salesian Youth Movement, etc.; and
– Journey: the synthesis of the commissions was carried out, based on the "reason, religion and loving-kindness" methodology.
In view of the Salesian Educational Congress, to be held from August 31 to September 2, 2023, it was determined that:
• the results of the 2022 Provincial Chapter will be presented by October this year;
• the pre-Congress, divided by regions, will be held on October 8, 15, and 22;
• through webinars, there will be short courses in preparation for the Congress from August to November 2022 and February to July 2023, with the support of the Laity Project team and OFPROBOL;
• in the post-Congress, guidelines, documents and directives will be published, to be included in the respective local PEPs and to foster working in synergy with all sectors of the Province.
During the pre-Congress, the Salesian Province of Bolivia was able to reflect on the actions being taken in favor of young people. In 2022, the Youth Ministry of Bolivia, in coordination with the educational bodies, had already organized meetings, to discuss the paths to be taken to put into practice the pedagogy of the Preventive System in Salesian services.
Also in 2022, a meeting had been held at the Salesian University of Bolivia, which was attended by about 15 people. On this occasion, the need to take an "x-ray" of Salesian services was identified, and then give a "diagnosis" of educational environments. It was also set as an objective to carry out these pre-Congress moments to rediscover Don Bosco's pedagogy and implement it in the work and services offered to young people.
"It strikes us that learning is again a priority. In this sense, I think it is important that the student feels like the protagonist of his or her learning,"

– Alejandro Cuentas, EPDB Pastoral Technician of the La Paz region.
The event concluded with a Eucharistic celebration presided over by Fr. Álvaro Rocabado, Vicar of the BOL Province.
Source: ANS – "Agencia iNfo Salesiana"