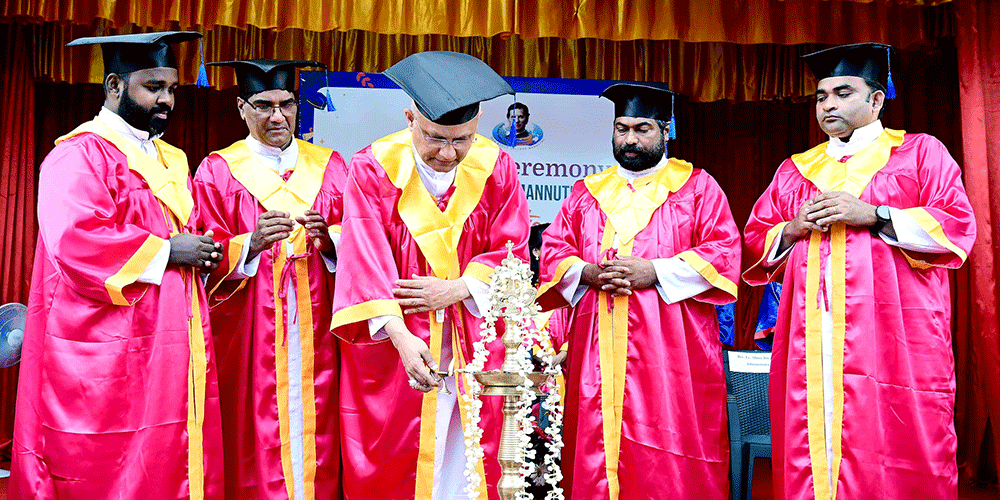 (Don Bosco College, Mannuthy) – The Salesian institution of Don Bosco College Mannuthy held its prestigious Convocation Ceremony 2023, where 128 graduating students, along with their parents, relatives, and friends, gathered to celebrate their achievements. The event was a grand affair, filled with moments of pride and inspiration. The Convocation commenced with a warm Welcome Speech by Vice-Principal Rev. Fr. Robin Mathew SDB, expressing gratitude for the attendees and acknowledging the students' dedication and hard work.
Principal Rev. Dr. Fr. Joy Ullattil SDB delivered an impactful Presidential Address, emphasizing the transformative power of education and encouraging graduates to make a positive impact in their chosen paths. Rev. Fr. Cyril Edamana SDB, the Rector and Manager, officially declared the students' graduation, symbolizing their successful academic journey.
The chief guest, Auxiliary Bishop MAR NEELANKAVIL TONY of Trichur, delivered a captivating Graduation Address, highlighting the significance of maintaining ties with their alma mater. The Convocation Ceremony 2023 left a lasting impression, reminding graduates of their valuable education and the responsibility to contribute positively to society.
As the ceremony concluded, the graduates departed with pride and readiness to embark on their future endeavors. The Convocation showcased Don Bosco College Mannuthy's commitment to providing quality education and nurturing well-rounded individuals.