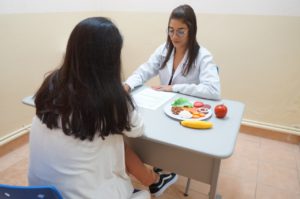 (UniSALESIANO, Araçatuba e Lins) – With the resumption of economic activities throughout the State of São Paulo, people who remained in social isolation due to the pandemic caused by the coronavirus are now looking for a better quality of life.
One example is the need for care offered by the Nutrition Clinic of UniSALESIANO, located at UNA (Universidade Aberta da Melhor Idade), in the Center of Araçatuba.
According to the nutritionists who attends at the UniSALESIANO clinic, the greatest demands are weight loss and adaptation of eating habits. "People come to us to learn about how to eat in a balanced, adequate, harmonious, and individualized way, in this post-social isolation period. All this to prevent diseases and improve health, guaranteeing greater longevity ", said the clinic's internship advisor, nutritionist Bruna Raniel.
She explains that the consultations offered by last year's students of the Nutrition Course at UniSALESIANO, with guidance and supervision from nutritionists, are to guarantee the population served clinical nutritional assistance for quality of life. "The consultations have individualized diet plans and anthropometric exams, which study the measures and percentage of body fat for nutritional assessment", explained Bruna, when completing that the services are aimed at the elderly, children, mothers, people with chronic diseases, obese, weight maintenance, among others.
Patients begin to have a healthy food / nutritional routine through these consultations by implementing and monitoring Nutritional Care, with a Food Plan appropriate to individual or pathological needs.
A 28-year-old woman from Araçatuba is happy and relieved to start a routine focused on weight loss. She said she was looking forward to starting a treatment at the Nutrition Clinic, focusing on weight loss when everything was closed due to the pandemic. "It hurt my life because I need nutritional monitoring. I need to lose weight because I have cases in my family of people with diabetes and hypertension. So, I want to take care of my health, and I'm enjoying the service at the Nutrition Clinic of UniSALESIANO. They treat me very well and make me excited,", said the patient.
Prevention
The nutritionist specialized in Clinic Applied to Chronic Diseases, Fabiana de Aro, commented that overweight and obesity are risk factors for many diseases, and food is essential for prevention.
"It is important to focus on raising awareness about healthy food choices, with self-observation and attention to the choices (how to eat, when, why and how much)"

– Fabiana de Aro, specialized Nutritionist
Regarding the search for weight loss and dietary reeducation after social isolation, the professional explained that, because it was a period of uncertainty due to the lack of knowledge about the coronavirus, it caused insecurity and anxiety in people, causing emotional compensations through food, especially caloric foods. According to her, the way to restore food quality is to reorganize the food routine, keep the body physically active, and make healthy choices. "Prefer real food, that is, with natural or minimally processed ingredients, including fruits and vegetables, grains, and whole grains," she advised.
Health
The Coordinator of the Nutrition Course at UniSALESIANO, Prof. Ariadine Pires, emphasized the importance of the Clinic's existence, opened in March 2017, for academics and patients. According to Ariadine, students learn, in practice, about individualized or group nutritional care, contributing to professional growth.
"They attend all age groups, with or without pathologies and this activity is associated to the theoretical disciplines that they had during the 4 years of the career, such as Nutrition and Dietetics, Clinical Nutrition, Maternal, and Child Nutrition, Nutrition Pathology, Functional Foods, Phytotherapy, Sports Nutrition, among others ", she explained.
The coordinator also stated that students learn to work in a team since any individual's nutritional treatment must be guided by their health as a whole: physical, psychological, and social. "Students also can develop, at the Clinic, their extension and research projects related to Food and Nutrition"
For patients, Ariadine emphasized that the clinic's service is relevant. The proposal is to offer individualized and specific care, working to raise awareness of the importance of a healthy diet and, if necessary, directed to your specific pathology guarantees quality of life, besides being a free treatment.
People interested in seeking care at the Nutrition Clinic of UniSALESIANO should call (18) 3519-9120 / 3519-9125, from 7 am to 1 pm, or visit the clinic in person, at the same time, at Rua Joaquim Nabuco, 155, at Centro de Araçatuba.
Posted by: Monique Bueno de Oliveira