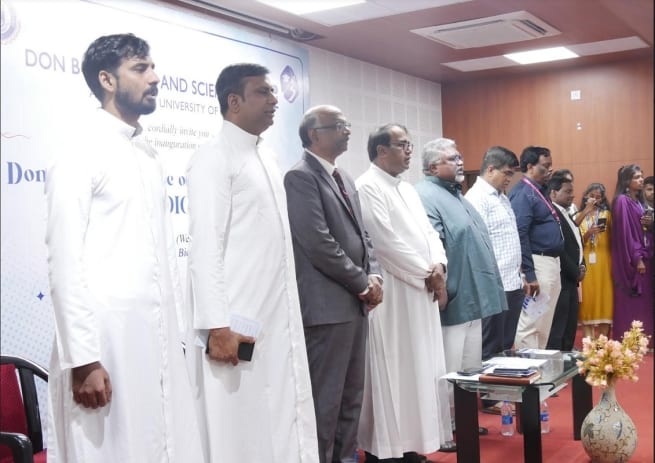 (Don Bosco Arts & Science College, Chennai) – Don Bosco Institute of Career Excellence (DICE), a significant step towards career advancement and skill development, was inaugurated on August 23 at Don Bosco Arts and Science College, Chennai, affiliated with the University of Madras. The inauguration of DICE marks a promising milestone in education and skill development.
Poised to revolutionize how individuals approach their careers, DICE was inaugurated with the blessings and encouragement of Fr Don Bosco, the Salesian Provincial of Chennai, the Chief Guest of the day Fr Maria Charles SDB, and CA. John Moris, the Guest of Honour. Fr Maria Charles SDB emphasized the importance of skill development in today's competitive world, expressing optimism about DICE's potential to shape individuals into industry leaders. CA John Moris lauded the institution's holistic approach to education by imparting knowledge and fostering personal growth and self-confidence.
The institute aims to bridge the gap between traditional education and industry demands by offering a range of part-time programs in diverse fields. DICE acknowledges the evolving needs of industries with career-enhancing skills for its students and the wider community.
The programs offered span an impressive array of disciplines like UPSC Civil Services (IAS/IPS) Foundation Course, Certificate and Diploma in Logistics and Supply Chain Management, Visual Post Production Courses and many more catering to various interests and aspirations of the stakeholder. By focusing on creative and practical disciplines, the institute aims to nurture well-rounded individuals prepared for the challenges of the modern professional landscape.
The event had the presence of Fr RajKumar SDB, the secretary of the Institution, Dr. Xavier, the Principal, Father Sagayraj Kasi, the Vice- Principal, Dr. Marcus, the Director of DICE, and Father Joe Anand.
Source: Don Bosco South Asia