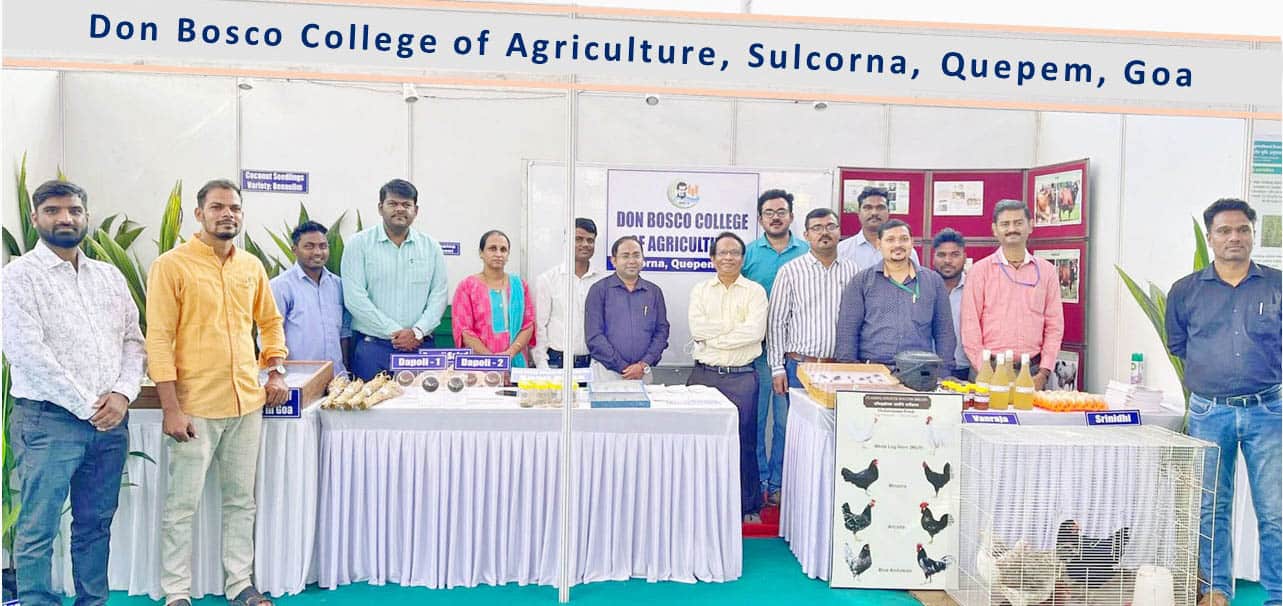 (Don Bosco College of Agriculture, Sulcorna) – Don Bosco college of Agriculture (DBCA), Sulcorna, Quepem upon the request of the Department of Agriculture, Government of Goa successfully participated in the district level Krishi Mahotsav-2021-22, inaugurated by Honorable Union Ministry for Agriculture and Farmers Welfare, Shri Narendra Singh Tomar, Chief Minister of Goa, Dr Pramod Sawant and Deputy Chief Minister and Minister of Agriculture Shri Chandrakant Kavalekar that was organized by the Directorate of Agriculture, Government of Goa at Quepem on January 4, 2022.
People from across the state of Goa visited the display set up by Don Bosco College of Agriculture on the theme Agriculture technology transfer showcasing Seed Bank with collection of seeds of various local crops including paddy, pulses, vegetables, melons and millets. Different insect traps to control pests, diseases samples, bee keeping equipment for honey production, indigenous breeds of chicken, food processing and post-harvest technologies for cashew wine, pickles, banana chips, coconut and areca nut seedlings etc. Many people were provided with information on advanced agriculture, innovative technologies, mechanization, irrigation and scientific projects.
The ministers, leaders, panchayat members, self-help groups and officers of the Directorate of Agriculture praised the college for its efforts and contributions to the development of agriculture in the state of Goa.
Principal, DBCA, Dr Suresh Kunkalikar, addressed the media conveying information on agriculture education and professional four years Bachelor of Sciencce (Honors) Agriculture degree program offered by the college, various national and international collaborative projects and extension activities for lab to land programmes.