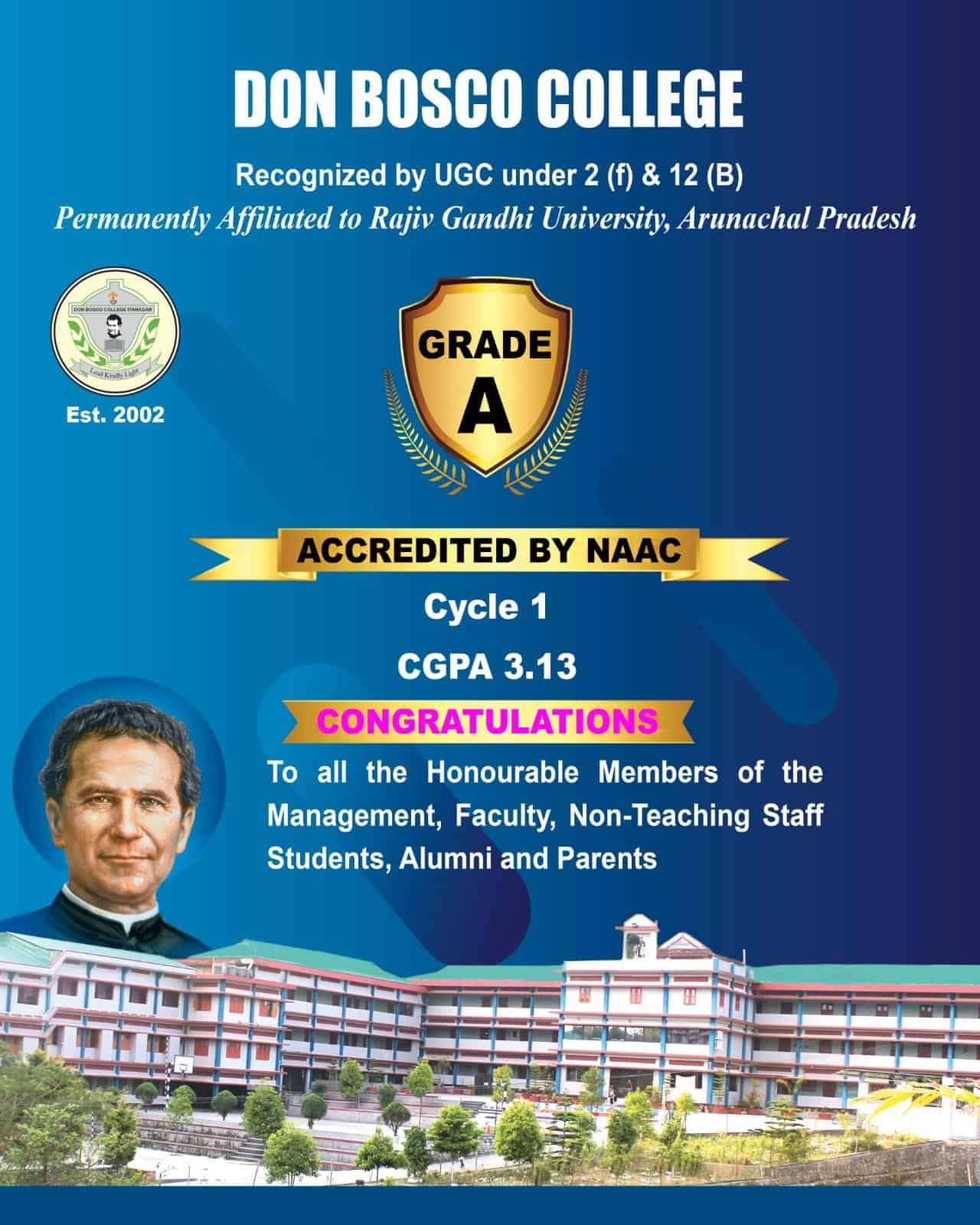 (Don Bosco College Itanagar, Jollang) – It is indeed a matter of great pride and honour for the Institution, Don Bosco College Itanagar which has been successfully and progressively accredited with 'A' grade by the National Assessment and Accreditation council (NAAC).
To commemorate this momentous and joyous occasion ,a Luncheon celebration of NAAC 'A' grade was celebrated on Wednesday, April 5, 2023 at 5:00 pm at DBC Itanagar.
While thanking the Almighty for this remarkable achievement, the celebration started with welcome song by the Bosconian Choir followed by a welcome address by the Principal Fr.Jose George welcoming the dignitaries and guests present for the occasion. The invitees included Shri Taw Tebin, President, APCA . Dr.AK.Tripathy, Secretary, APPEIRC, Shri Joram Muthu, Joint Director, Higher and Technical Education, Rt. Rev. Dr. John Thomas, Bishop of Itanagar, Dr. Nabam Tadar Rikam, Registrar, Rajiv Gandhi University, Panchayat leaders and Alumni of the Institution.
The journey of 'A' grade was highlighted by Mr. Luhish Lushai, IQAC coordinator. Securing of the 'A' grade confirms that the Institution is committed to the cause of quality-culture as it has been rightly reflected in the transformation and incremental improvements made over the years. NAAC Accreditation is a stepping stone for the Institution. Furthermore, the NAAC Grade instills great confidence among all stakeholders including faculty, students, alumni and parents. While going forward, the 'A' grade will certainly open many more opportunities for the Institution to explore and excel. Indeed a proud moment for the Institute and its Stakeholders".
The celebration in the evening show the different cultural events, bollywood dances, songs, fashion parade etc. The celebration came to a felicitous end with a sumptuous dinner for all.