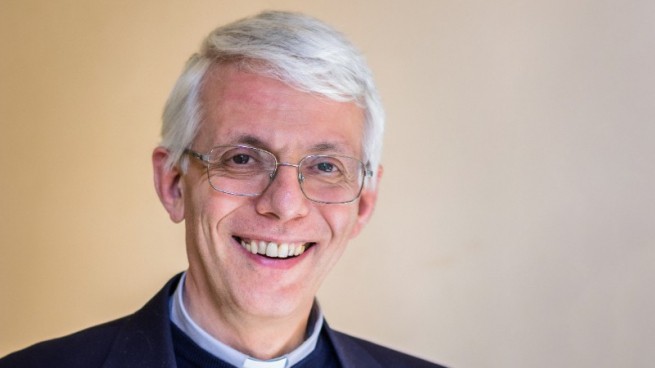 (Università Pontificia Salesiana, Rome) – On 30 June the Congregation for Catholic Education issued the Decree (prot. No. 467/2021) which appoints prof. Andrea Bozzolo Rector Magnificus of the Salesian Pontifical University (UPS). His mandate, as established by the Executive Decree (9 July 2021, prot. N. 41/2021) of the UPS Grand Chancellor, the Rector Major, Fr Ángel Fernández Artime, shall begin on 3 August 2021.
Professor Bozzolo has been a professor at the Salesian Pontifical University since 1999. He is currently Full Professor of Systematic Theology at the Faculty of Theology, in the Turin section, of which he was Dean from 2008 to 2017. He is also Professor in charge of Systematic Theology of Northern Italy and the Theology of Marriage at the John Paul II Institute for Marriage and Family Studies.
He is a member of the Italian Theological Association, collaborated with the Pontifical Council for the Family (2014-2015). He participated as an expert in the Synod of Bishops "Young people, faith and vocational discernment" (3-28 October 2018) and in the last two General Chapters of the Salesian Congregation.
Born in Mondovì (Italy) in 1966, Andrea Bozzolo has been a Salesian since 1986 and a priest since 1995. He is a Doctor of Classical Literature with a thesis defended in 1992 in Turin on "Augustine's Hermeneutics. Theory and reading of the Enarratio in Ps. 103".
In 2002, at the Theological Faculty of Northern Italy, he obtained a doctorate in Systematic Theology with a thesis entitled: "The sacramental effectiveness of faith. Mystery, symbol and rite in Odo Casel". It was published in its entirety with the title "Mistero, simbolo e rito in Odo Casel" (Libreria Editrice Vaticana, Vatican City 2003). His curriculum vitae is full of publications in the area of ​​systematic and liturgical theology, and of Salesian ministry and spirituality.
"I've known Fr Andrea Bozzolo since we began the journey of Salesian life together, from the Novitiate to philosophical and theological studies, and I have great esteem as a Salesian and as a qualified and appreciated teacher," said the outgoing Rector Magnificus, Fr Mauro Mantovani. "I remember, for example, his magnificent speech here at UPS on the occasion of the International Congress 'Youth and Life Choices' in September 2018, a few days before the beginning of the Synod of Bishops, in which he participated as an expert on young people, faith and vocational discernment. I'm especially pleased that with his appointment one of our two sections of the Faculty of Theology, that of Turin, is enhanced, just after having concluded the 80th anniversary of the foundation of our Institution, which was born right there where Don Bosco himself lived and operated."
"Personally, and on behalf of the entire academic community of the UPS," concluded Fr Mantovani, "I offer Father Andrea my warmest and most cordial best wishes, certain that the new Rector will be able to count on the convinced collaboration and support and friendship of every member and component of our University. I will immediately make myself available to him, both for the necessary handover and for everything he may need to carry out his important task in the best possible manner right away."
Source: Agenzia iNfo Salesiana