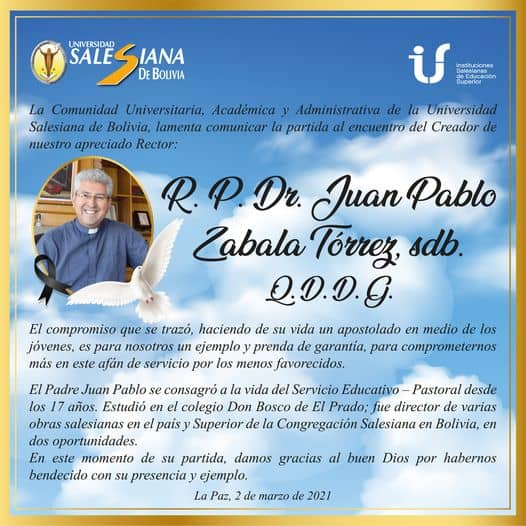 (Universidad Salesiana de Bolivia, La Paz) – With deep sadness, but at the same time with the certainty that the Merciful Father has already welcomed him into Heaven, the Salesian community of Bolivia (BOL) announced that yesterday, Monday 1 March, BOL Provincial, Fr Juan Pablo Zabala Torrez, SDB, died in the city of La Paz, due to COVID-19. "Let us pray for his eternal rest and give thanks to God for his life and ministry," said the religious of the "Our Lady of Copacabana" Province.
Fr Zabala was born on 15 January 1965 in La Paz, Bolivia. He carried out his novitiate at Santa Eulalia, Peru, made his first religious profession on 12 February 1985 and perpetual profession on 31 January 1992 in La Paz. On 24 September 1994, he was ordained a priest in La Paz-El Alto.
He had been Vicar of the "Paul VI" Theologate community of Cochabamba in 1998-99, Director of the "Don Bosco" Institute of the same city from 1999 to 2005, and Vicar of the "Don Bosco Institute" of La Paz since 2017.
For the BOL Province he had also been Secretary (1997-99), Councilor (1999-2002 and 2017 – to present), Vicar (2002-2005), and Delegate for Provincial Services-Educational Centres (2004-2005).
In 2005 he assumed the government and animation of the Salesian province of Bolivia as the first Bolivian provincial to assume this responsibility. At the end of his mandate, he is sent to Rome where, after several years of study and research, he obtains the title of Doctor of Philosophy from the Salesian Pontifical University.
Upon his return to Bolivia, in 2018 he assumed the position of Rector of the Universidad Salesiana de Bolivia. And in 2020 he is again elected to the inspector service, a position that he assumes on August 17, 2020
Source: ANS – Agencia iNfo Salesiana ; Iglesia Viva