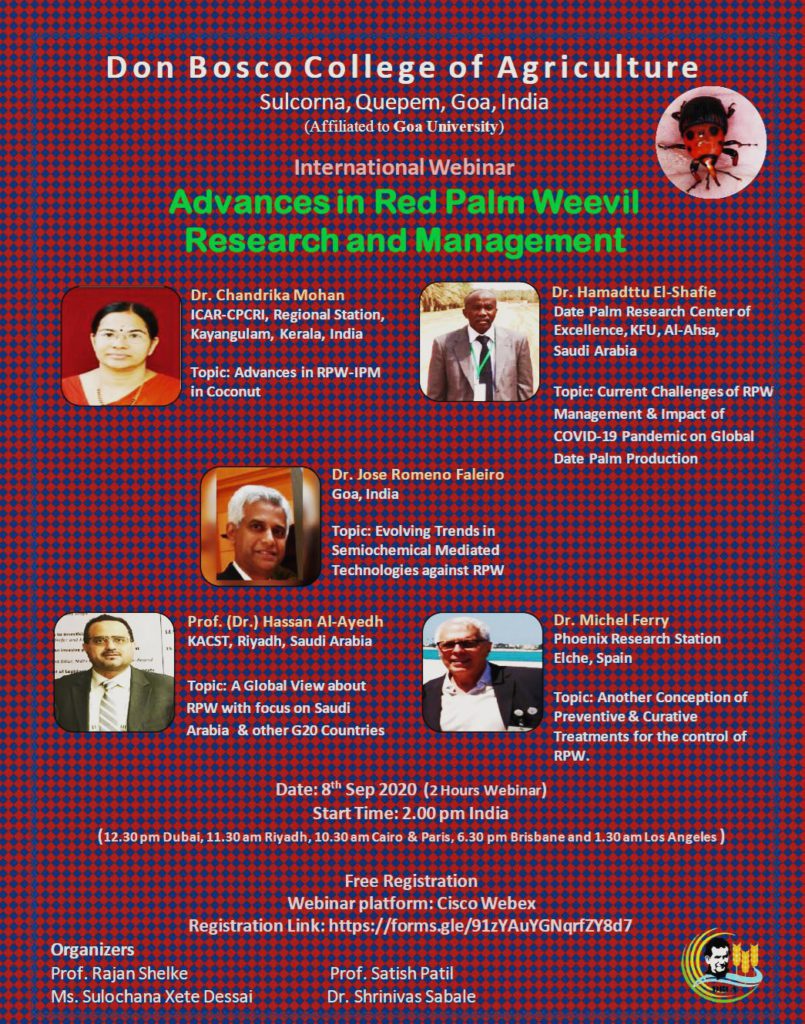 (Don Bosco College of Agriculture, Goa) – The Don Bosco College of Agriculture, Goa, India affiliated to Goa University, is organizing a short International Webinar on 'Advances in Red Palm Weevil Research and Management'.
RED PALM WEVEL is a common pest in Italy and Europe with destructive results. This pest has significantly expanded geographically from its origins in Southeast Asia during the lasts decades. RPW is causing widespread damage to the date palm tree and other cultivated plants. The spread has resulted in significant economic and environmental consequences and is considered the most destructive insect pest of date palm in the Middle-East.
The virtual conference will bring together professionals that have been working on research to understand the biology and ecology of this warm-climate pest and reduce its spread to prevent future economic and environmental damages.
Topics
Advances in RPW – IPM in Coconut
Current Challenges of RPW Management and Impact of COVID 19 Pandemic on Global Date Palm production
Evolving trends in Semiochemical Mediated technologies against RPW
A Global view about RPW with focus on Saudi Arabia and other G20 countries
Another conception of preventive and curative treatments for the control of RPW
Date
Tuesday, September 8th from 2:00 – 4:00 pm IST
Registration