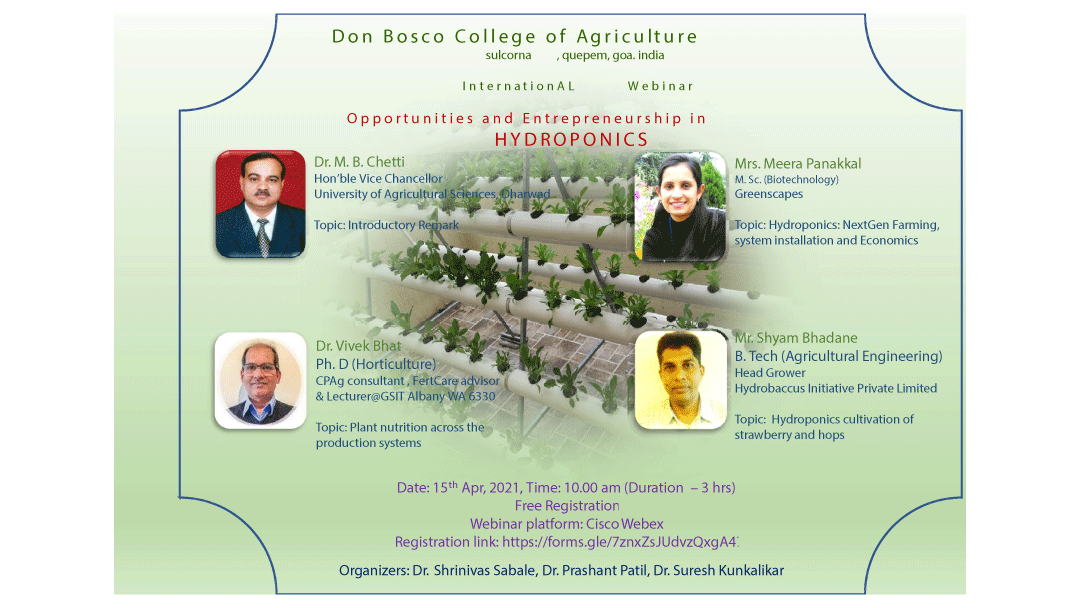 Don Bosco College of Agriculture is organizing an International webinar on Hydroponics. The information and live demonstration in the webinar may motivate youth and entrepreneurs to Opt for hydroponics as a business venture.
When talking about the future of Agriculture, Hydroponic farming is generating a lot of attention among farmers, entrepreneurs, and people interested in growing their own greens. This system is popularly known for:
Growing vegetables and fruits organically without soil.
Being 40% more nutritious than traditional farming.,
Using 90% less water and being pesticide-free.
Growing 30-50 percent faster than a soil plant
We request you to motivate your friends, farmers, youth, entrepreneurs to attend the webinar.
Date:
April 15, 2021, Time 10:00 am (Duration – 3 hours)
Registration:
Registration link: https://forms.gle/7znxZsJUdvzQxgA47
Join WEBEX Meeting
https://donbosco.webex.com/donbosco/j.php…
Meeting number (access code): 184 050 9383
Meeting password: dbca1234