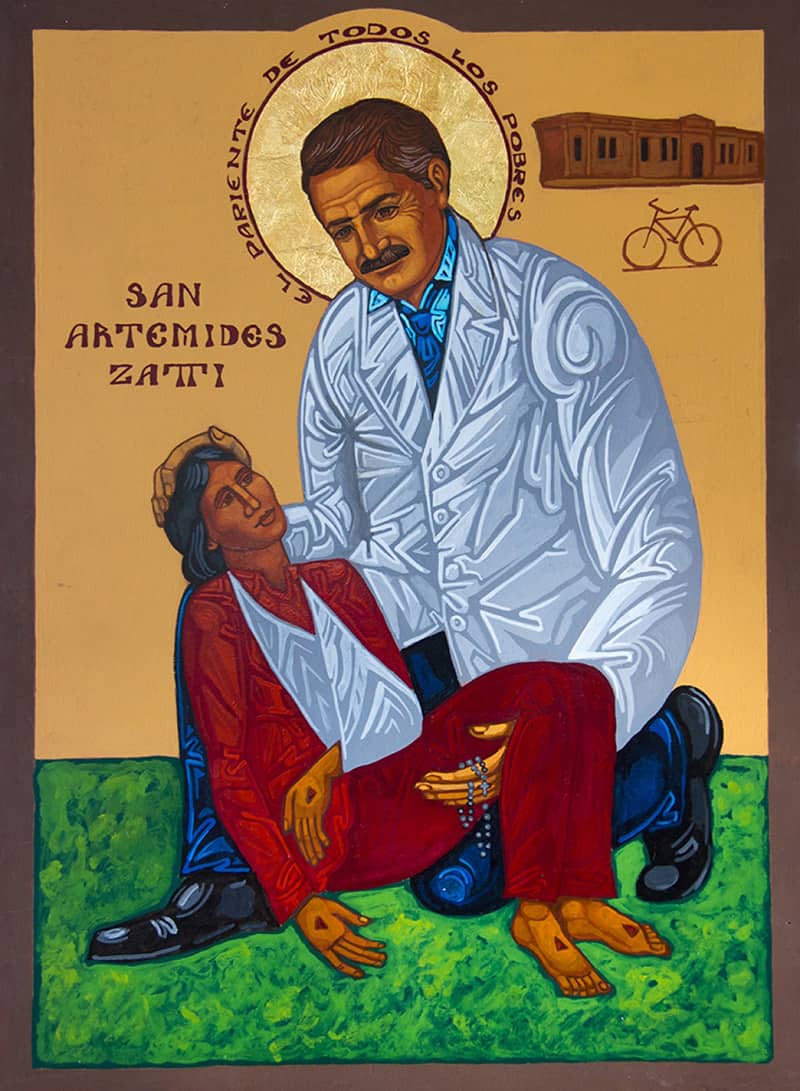 (ANS – Rome) – The liturgical texts (orational – lectionary – universal prayer) are published for the celebration of the Memory of St. Artemis Zatti, to be used both on the dedicated liturgical day, Nov. 13, and during the celebrations planned in thanksgiving after his canonization, which will take place Sunday, Oct. 9, in Rome.
In the Roman Martyrology we read of Blessed Artemide Zatti:
"a religious of the Society of St. Francis de Sales, who excelled in missionary zeal and, having set out for the impervious regions of Patagonia, for the whole of his life devoted himself in the hospital of that city (Viedma, in Argentina, where he is buried) with supreme generosity, in all patience and humility, to the needs of the needy." He is the first Salesian Coadjutor to be canonized.
Artemides (Boretto, Reggio Emilia, 12 October 1880 – Viedma, Argentina, 15 March 1951) emigrated to Argentina with his family at the beginning of 1897, settling in Bahia Blanca where he attended the parish run by the Salesians. At the age of twenty, he was accepted by Bishop John Cagliero as a Salesian aspirant and entered the house at Bernal, where he was entrusted with the task of assisting a young priest suffering from tuberculosis, from whom he also contracted the disease. Sent for treatment at the San José hospital in Viedma, he met Father Evasio Garrone. Together with him, he asked and obtained from Mary Help of Christians the grace of being healed, and promised to dedicate his entire life to the care of the sick. In 1908 he made his perpetual profession as a Salesian Coadjutor Brother. He began to look after the pharmacy attached to the hospital and later assumed responsibility for the hospital. As a "Good Samaritan" he was absolutely dedicated to the sick, recognizing in them the face of Christ. Following in the footsteps of Don Bosco he made Providence the first and secure entry in the budget for his works. Saint John Paul II proclaimed him Blessed on 14 April 2002 and Pope Francis listed him in the register of saints on 9 October 2022.
The liturgical texts in the six most widely spoken languages of the congregation are available at the bottom of the page.
"The whole Congregation and Salesian Family are invited to celebrate a Eucharist of thanksgiving on the same day and in every part of the Salesian world, in communion with the one we will celebrate in Valdocco," concludes the 10th Successor of Don Bosco.
To participate in the events on Saturday, October 8 in Paul VI Hall, click here.
For information and to request tickets, write to: mfrangapane@sdb.org
Download attachments:
Source: ANS – "Agenzia iNfo Salesiana"