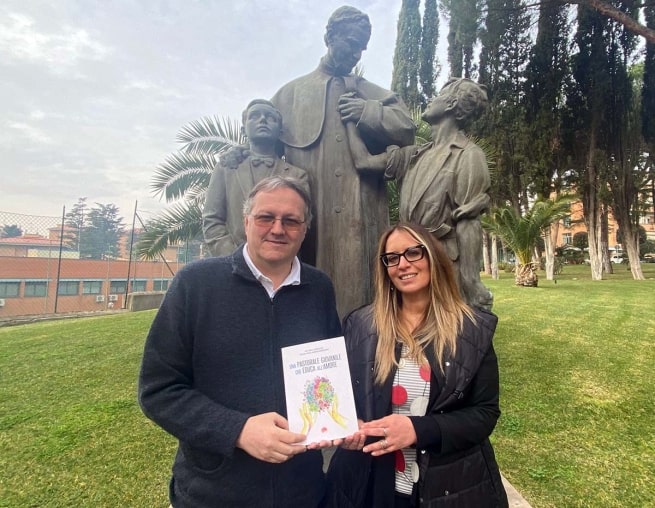 (ANS – Rome) – After two years of listening, synthesis and reflection, the Youth Ministry Sector has published the text "A YOUTH MINISTRY THAT EDUCATES TO LOVE", available in six languages.
Fr. Miguel Angel García Morcuende, one of the two authors, explains that "Don Bosco consciously chose to involve himself directly in the lives and physical, emotional, mental and spiritual situations of his boys. Many of their stories of abandonment and loneliness concealed complex situations that he himself helped to illuminate and guide. Attention to the affective dimension was constantly contemplated in his Preventive System."
Antonella Sinagoga, for her part, comments that
"in a current interpretive key, affectivity education today is an opportunity to listen and welcome concerns, doubts and research in an integrated perspective. Affectivity and sexuality are two essential aspects of well-being and are intended to accompany people's relationships throughout their lives."
The book is intended to be a tool for educators to systematize concepts and attitudes related to affective and sexuality education. This combination of knowledge and behavior will gradually lead to the development of skills and criteria that will help the educator to accompany and guide young people in a flexible manner appropriate to all life contexts.
• The first chapter is a reading of the current situation in which, mainly, sex is reduced to a thing, expressed and exhibited in a commodified way, which prevents the development of authentic relationships. All this constitutes a responsibility for the educator.
• In the second chapter, after a redefinition of the main characteristics of adolescence and the corresponding developmental tasks, we move on to consider some of the questions, issues, and perplexities of young people regarding the relationship between relationships and corporeality.
• The third chapter presents some conceptual premises for the construction of a theoretical framework to address and treat the topic as comprehensively as possible. Uncritical understandings may prevent the educator from addressing these issues in a sufficiently balanced way.
• To make sense of this delicate and relevant area of educational mission, the fourth chapter explores the great example of Jesus, recognizing how, in some Gospel episodes, he created concrete places of welcome.
• The fifth chapter examines the Church's journey, focusing in particular on Amoris Laetitia, which follows the path of dialogue, giving importance to listening and understanding.
• The sixth chapter presents some practical reflections on areas to explore for the personal growth of educators. These pages serve to deepen and elaborate on the challenges that emerged in the study meetings with Youth Ministry Delegates.
• The seventh chapter discusses ten educational criteria from a Salesian perspective, all related to the themes discussed above.
Readers will be able to deepen the links between Sacred Scripture, Magisterium, ethics, human sciences and real life. This course of study and sharing, which involved 60 people and several universities, offered an opportunity to reflect on a complex, current and, in some respects, controversial topic of education for love; it is, therefore, a "work in progress" in which some fundamental criteria are collected, aimed at the global accompaniment of adolescents and young people towards affective maturity.
Source: ANS – "Agenzia iNfo Salesiana"