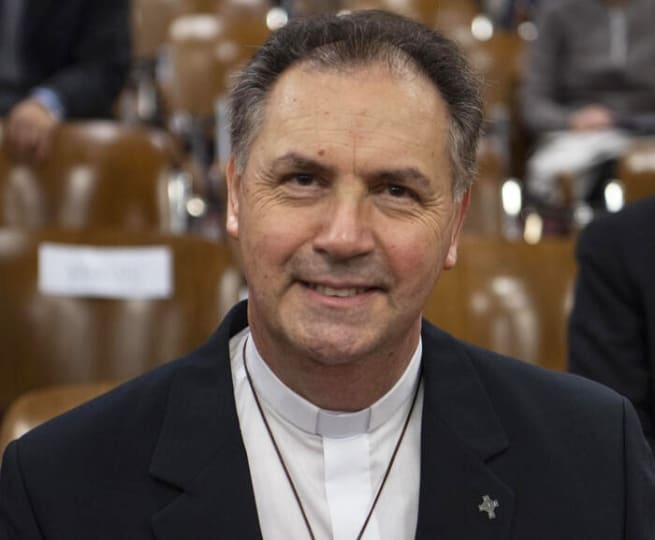 (ANS – Ciudad del Vaticano) – "We continue to help Ukraine." This is both an invitation and a confirmation of his activity, launched by the Rector Major of the Salesians, Fr Ángel Fernández Artime, on the sidelines of the presentation, at the Teutonic College in the Vatican, of his book The charism of presence and hope. A year travelling with Fr Ángel Fernández Artime. The book brings together the journeys undertaken by the 10th Successor of Don Bosco from the beginning of 2022 to March 2023, visiting houses of a Congregation that operates in 136 countries around the world on all continents.
"I fully agree with the Holy Father and I believe that he offers us so much light and so much strength", the Rector Major explained, speaking of the mission for peace between Ukraine and Russia established by the Pope. "I think that even when political movements and nations go down a particular road, we must continue to offer these elements of hope, and seek encounter and dialogue when possible", he added.
Fr Á.F. Artime also spoke of justice: "Without justice, it is not possible to obtain peace: ours must be a journey of dialogue, together searching for a common path for peace, bearing in mind that there is no peace without justice."
Russia and Ukraine are two countries that he visited before the outbreak of the war and that he was able to get to know personally. "Now a visit is difficult, so we continue to accompany them in different ways… The truth of this war is enormously painful. I find it very hard to believe that we are experiencing war again today."
Regarding the Salesian situation in Russia, he said, "We are working among people who have children and families and war is not something those families want to talk about."
As for the Salesians in Ukraine, "We have a very strong presence there. Sixteen Salesian works between Greek-Catholic and Latin Ukraine: we take in families, and already before the war we had a home for orphans and abandoned children, parishes, schools and places for young people. There are also Salesians who go to the front line of conflict daily to bring aid. Our idea is to continue to help Ukraine in Salesian terms."
Salesian aid to Ukraine also involves the reception activities offered to the thousands of refugees who have fled to neighbouring countries or even beyond. "Salesian houses have welcomed Ukrainian refugees fleeing war in their centres in Poland, Slovakia, Italy and even in Valdocco itself", the cradle of the Salesian Congregation.
"It was an emotional moment, a year ago, in Don Bosco's own house, when we took in the first 84 people who had come there to live," the Rector Major concluded. Most of them have returned to Ukraine."
Source: ANSA, SIR ; ANS – "Agencia iNfo Salesiana"