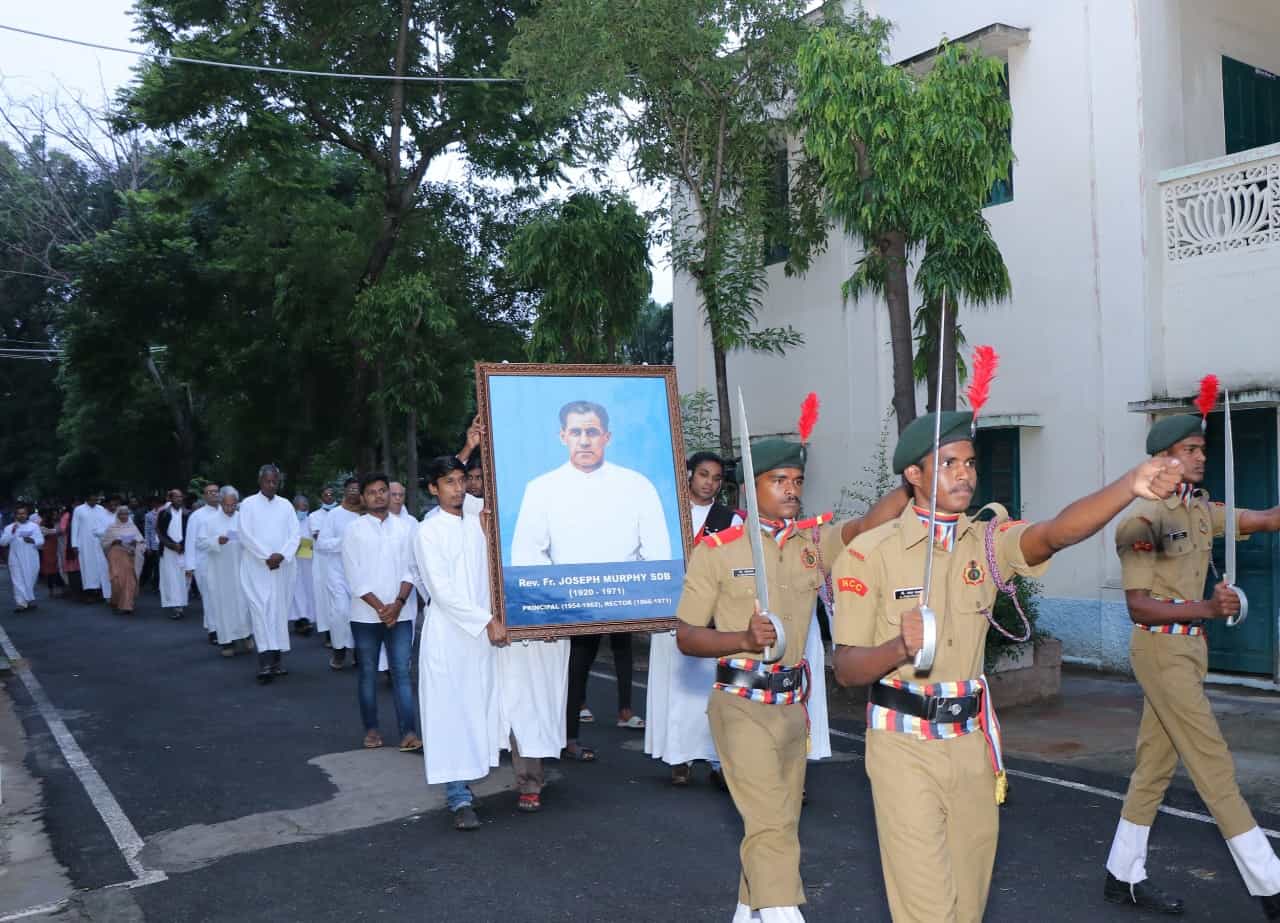 (Sacred Heart College, Tirupathur) – "After taking six wickets, sure of his team's victory, he collapsed on the pitch, thus ending his brief but glorious innings of 51 years on this earth. We can imagine him walking right into the celestial pavilion with his head held high and a charming smile playing on his lips. And the heavenly stadium resounding with the sound of angels cheering him and accompanying him to the victory stand," said Father KJ Louis SDB, at the gathering to pay tribute on the 50 Death Anniversary of Father Joseph Murphy, an outstanding educator and loyal son of Don Bosco. The Salesian Community of Sacred Heart College, Tirupathur and friends of Father Murphy gathered on November 14, 2021, to remember and pay tributes to him on the 50th anniversary of death.
Many of Father Murphy's former students, senior Salesians and faculty members who had served the college under his leadership, with the present faculty and students, joined the solemn Eucharistic celebration offered in his memory. Delivering the sermon Father Louis SDB, one of Father Murphy's students, remembered him as a great human being, an outstanding educator and a loyal son of Don Bosco.
"True to the epitaph inscribed on his tombstone 'Though dead, he still speaks' (Hebrew 11:4), Father Murphy continues to live in the hearts of Salesians and young people in the campus through the values of hard work, kindness, love of God and love for the poor that were so dear to him. Father Murphy is the author of the College motto, Ready for every good work", said Father John Alexander SDB, Rector of Sacred Heart College, addressing the gathering. Father Joseph Berchmans, another student of Father Murphy, recalled:
Standing at the very same spot in the cemetery exactly fifty years ago, I was privileged to bid farewell to Father Murphy through a funeral oration on behalf of the young Salesians and students. He was dear to God and dear to people.
Born in Newcastle in England on April 4, 1920, young Murphy arrived in India in 1938 as a newly professed Salesian. He completed his Salesian formation and ecclesiastical studies at Tirupathur and was ordained a priest in 1948. After getting qualified in Mumbai University in 1953, he was appointed Vice-Principal of Sacred Heart College with Father John Med as the first Principal. In 1954, Father Murphy was appointed Principal of the college to nurture it and set it on the road to academic distinction and all-around excellence in the University of Madras for the next nine years.
Source: Don Bosco India