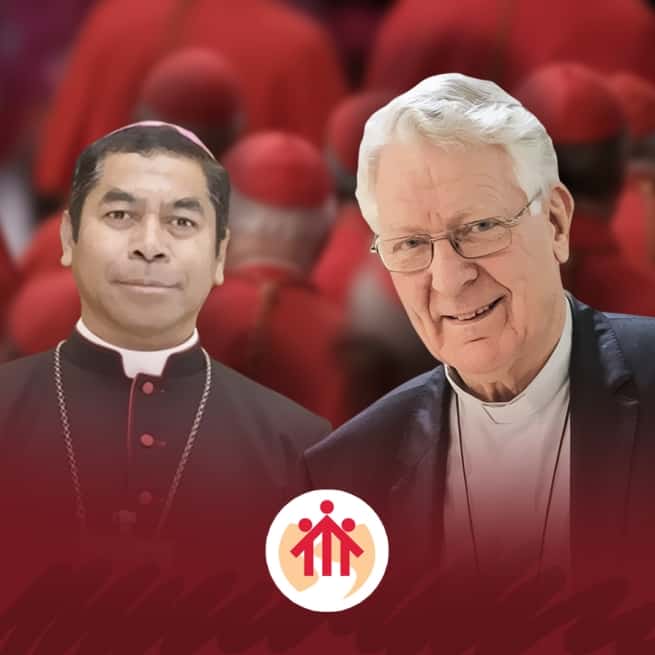 (ANS – Rome) – Today 29 May, the Ascension Sunday and the 56th World Communications Day, Pope Francis after the Marian prayer of the Regina Coeli, and the reflection of the Gospel, announced the convocation of the concistory on 27 August for the creation of the 21 new cardinals. It is a joy to note, that two Salesians are on the list of the newly announced – Mons. Virgilio Do Carmo Da Silva, S.D.B. – Archbishop of Dili (East Timor) and Mons. Lucas Van Looy sdb – Emeritus Archbishop of Ghent (Belgium).
Virgílio do Carmo da Silva
He was born on 27 November 1967 in Venilale, East Timor. After attending Salesian primary and secondary schools in Fatumaca, he joined the the Salesians of Don Bosco, and made his first profession on 31 May 1990. From 1990-1992 he was part of Philosophy Studies at Don Bosco Canlubang in the Philippines. He made his perpetual profession on 19 March 1997 and was ordained priest on 18 December 1998. From 1999 to 2004 and again from 2007 to 2014 da Silva was novice master for the Salesians. From 2005- 2007 he did his licentiate in Spirituality at the Università Pontificia Salesiana (UPS) Rome. From 2009 to 2014 he was the director of the Technical School of Nossa Senhora de Fátima in Fatumaca. In 2015 he became the Provincial of East Timor and Indonesia vice-province. On January 30, 2016, he was appointed by Pope Francis as Bishop of Dili. In September 2019, Pope Francis appointed Bishop Virgílio do Carmo da Silva as Timor-Leste's first archbishop.
Lucas Van Looy
He was born on 28 September 1941, in Tielen, Belgium. He studied with the Jesuits in Turnhout and Don Bosco College in Hechtel. He joined the Salesians of Don Bosco and made his first profession on 25 August 1962 and later made his Perpetual profession on 6 March 1968. He was ordained a priest on 12 September 1970. He worked in South Korea from 1972 to 1984. He then held various responsibilities of leadership in the Congregation: General Councillor for Salesian Missions from 1984 to 1990, General Councillor for Youth Ministry from 1990 to 1996, and Vicar of the Rector Major from 1996 to 2003. He was nominated as Bishop of the Diocese of Ghent by Pope John Paul II on 19 December 2003, and consecrated bishop by Cardinal Godfried Danneels on 1 February 2004. Pope Francis accepted his retirement in December 2018, but asked him to remain as bishop until his successor was appointed. On 27 November 2019, Pope Francis accepted his resignation and named Lode Van Hecke to succeed him.
Source: ANS – "Agenzia iNfo Salesiana"