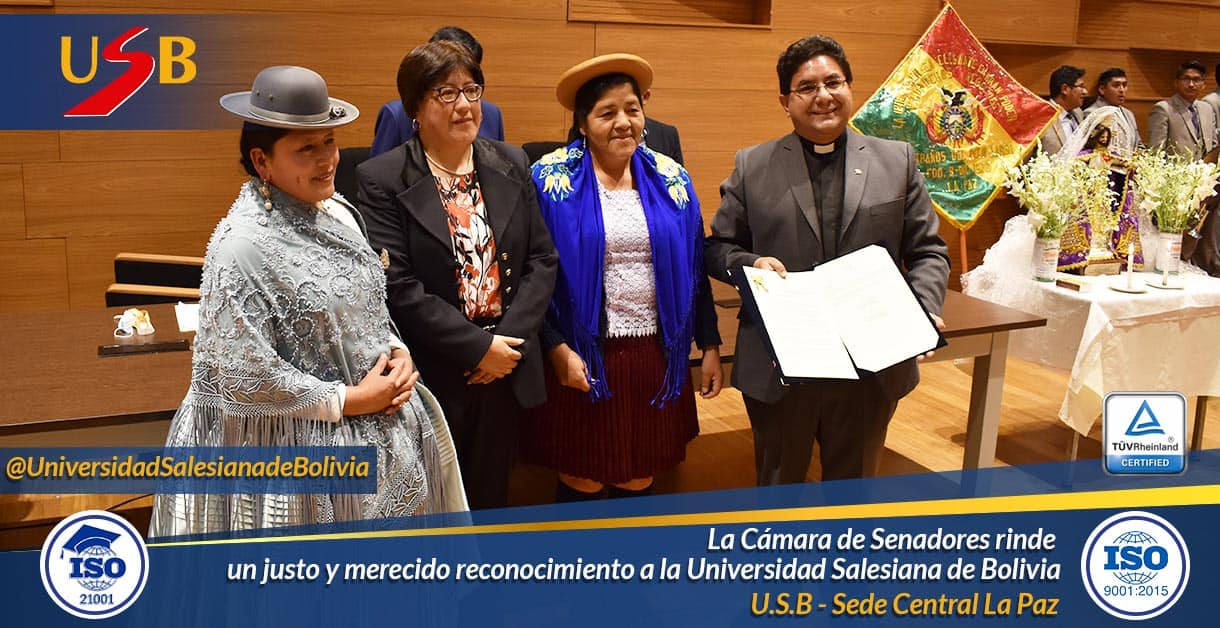 (Universidad Salesiana de Bolivia, La Paz) – The Senate of the Plurinational State of Bolivia has paid "a just and well-deserved tribute" to the Salesian University of Bolivia (USB) in recognition of its "priceless contribution" to the higher education of the country's youth and people, achieved through the training of qualified professionals who have contributed and continue to contribute to the development of the Department of La Paz and the entire State.
Receiving the certificate on Wednesday, July 13, were the institution's highest authorities, Fr. Luis Adolfo Tórrez Sanjinés, SDB, Rector, and Attorney Susan Mabel Vargas Salazar, Vice-Rector for Academics and Research, who were delighted to receive the Senate's award, given, as stated in the declaration of the Upper House of the Bolivian Parliament, to La Paz's deserving institutions and figures as part of the Department's anniversary celebrations.
The award was presented by Senator Virginia Velasco Condori, chair of the Plural Justice, Public Ministry, and State Legal Defense Commission, who not only paid tribute to the Salesian University's educational contribution to the country's development but also offered her testimony as a former USB student, having attended Salesian university classrooms several years ago, eventually graduating with a degree in Law and being educated in such a way that she was able to work as a competent professional to the point of holding the important positions she still holds today.
By forming competent professionals, good Christians and upright citizens, USB is preparing to celebrate 25 years of Salesian presence in Higher Education, proud of the national reach achieved by its offerings, which now extend over eight cities in Bolivia
Cochabamba, Camiri, Monteagudo, Santa Cruz, San Carlos, Yapacaní, Yacuiba, and La Paz. The Salesian presence in Bolivia today is still planning a progressive expansion in modern and comfortable infrastructure that will allow it to continue on the path of building a dream that began in 1998.
The USB is moving forward with its projects with the firm purpose of spreading a culture of continuous improvement, constantly seeking educational quality, and being a pioneer institution in achieving certification of the exclusive international standard for educational organizations of Educational Organization Quality Management System ISO 21001: 2018, certified by TÜV Rheinland International.
In a note published by the Bolivian Senate Chamber, it is also emphasized that USB offers a virtual platform and technical support in online courses and distance-learning programs, again showing that it knows how to take advantage of the most advanced technologies to achieve great success and results while remaining faithful to the integral, comprehensive educational model called the Salesian Pedagogical Model.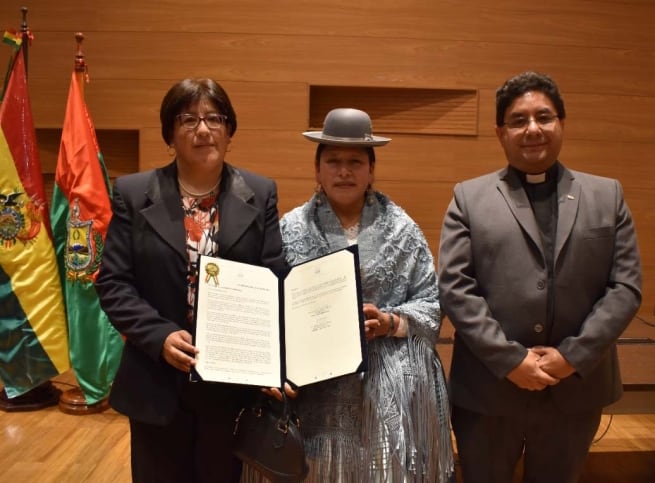 Source: Universidad Salesiana de Bolivia