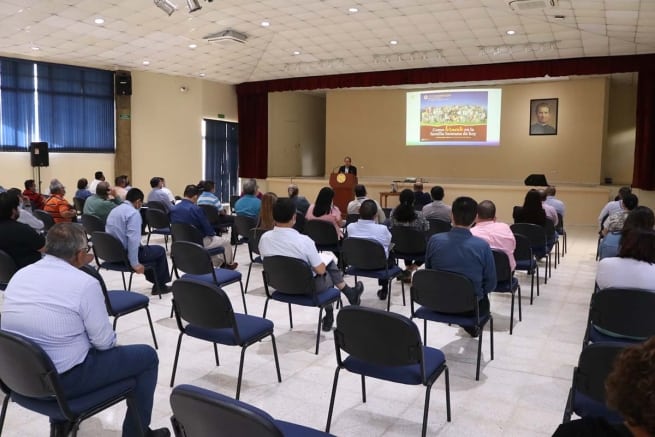 (Universidad Don Bosco, San Salvador) – The "Universidad Don Bosco" (UDB) of El Salvador, through the Department for University Pastoral Care, organized Salesian Days, a space for meeting, dialogue, and conviviality for the entire educational community of the UDB.
The objective of this meeting was to reinforce the Salesian identity that characterizes the university and to reflect on the actions that each of the members takes to contribute to the education of students.
El objetivo de este encuentro es fortalecer la identidad salesiana que caracteriza a la institución y reflexionar acerca de las acciones que cada uno de los miembros realiza para contribuir a la formación de los estudiantes.
During the event, the message of the Strenna of the Rector Major of the Salesian Congregation, was presented, the purpose of which is to encourage, motivate and remind members of the Congregation and the Salesian Family of Don Bosco's mission, and which also serves as an educational and evangelization guide for the paths the Congregation is to follow throughout the world.
Drafted by Rector Major Fr. Ángel Fernández Artime, this year's Strenna develops the theme "AS THE YEAST IN TODAY'S HUMAN FAMILY. The Lay Dimension of the Family of Don Bosco," and aims to address the importance of the laity in Salesian work and for the Church.
According to the Rector Major, "the ultimate objective of Don Bosco's mission is, along with the salvation of his children, the transformation of society. Without the laity, how can we achieve this objective? The Church needs the laity and the lay vision, to speak the language of the world, the language of humanity, and to live that same humanity together."
Through his message in the Strenna for 2023, the Rector Major urges educators to provide continuous accompaniment to their students and pupils so that they can be fully formed and build responsible lives.
The Salesian Days were presided over by the highest authorities of the UDB: the Rector, Br. Mario Olmos, SDB; Academic Vice-Rector, Humberto Flores; Secretary General, Xiomara Martínez; and UDB Vice President, Fr. René Santos, who offered the educational community a reflection on the Strenna, followed by a moment of conviviality among the participants.
The event of these days was very important for the UDB as it allowed members of the educational community to meet in an atmosphere of reflection, dialogue, and conviviality about the educational and support activities that the institution carries out for its students.