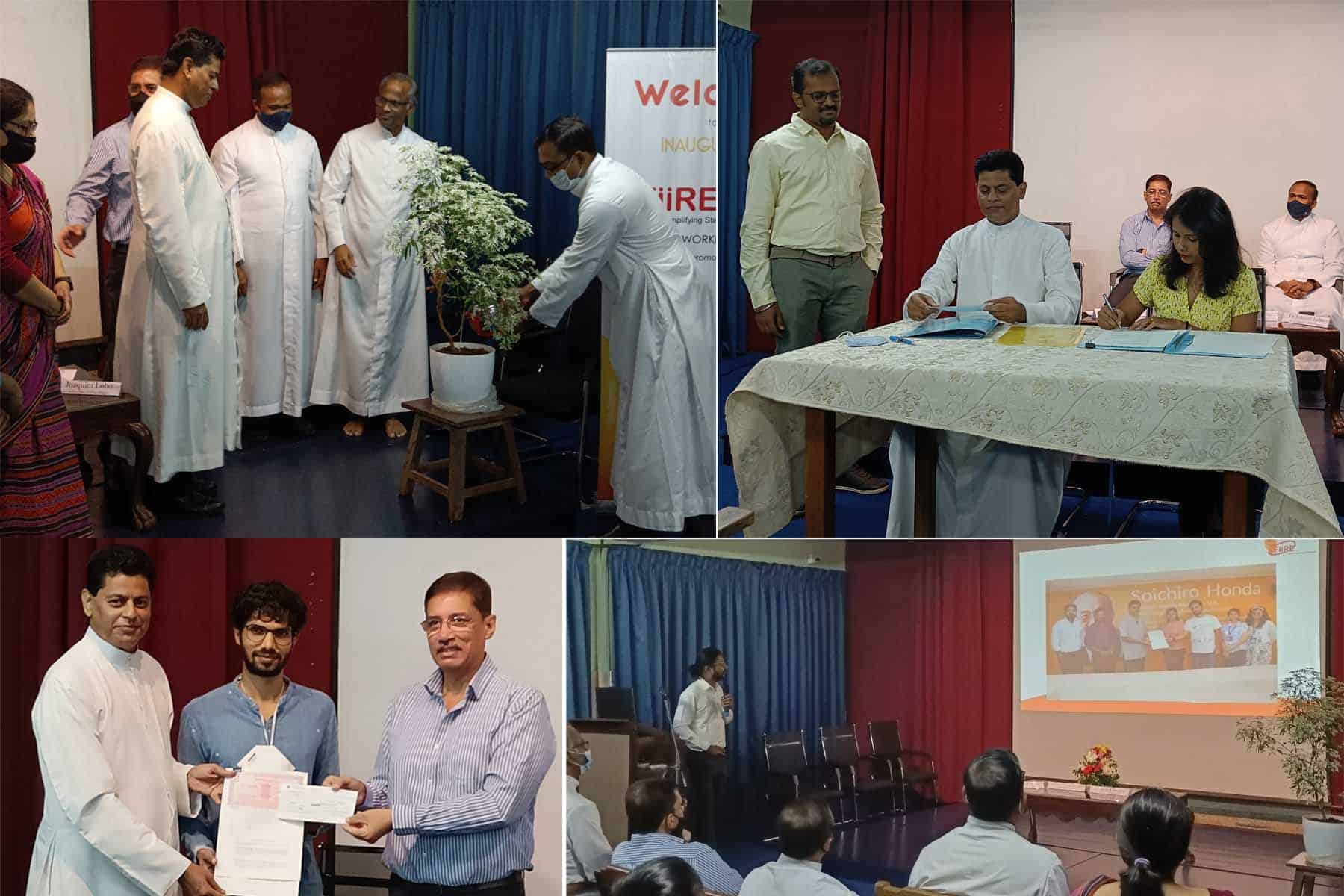 (Don Bosco College, Panjim) – Don Bosco College (DBC) Panjim, , heralded the upcoming New Year with the inauguration of Forum for Innovation Incubation Research and Entrepreneurship (FiiRe) Work, a campus-based technology incubator, on December 21, 2021.
CEO, FIIRe, D S Prashant, (FiiRe), shed light on how much the FiiRE incubator at Don Bosco College of Engineering, Fatorda, had achieved in the last few years. He explained how more than 35 startups were incubated there, some of which focus on reducing temperature, while others worked on innovations in the field of education or some ship-building aspect.
Chief guest Chairman, Goa Public Service Commission, and Chairman, Goa State Innovation Council, Jose Noronha, commended the work of FiiRe at Fatorda, and expressed his appreciation that another branch was being set up at DBC institution to encourage and promote technological advancement. He explained the concept of how an incubator prematurely handles ideas. He also stressed that as educators it is important to listen when young people come up with ideas. So many things that are commonplace today were once mere ideas taking shape in an incubator, he shared, citing a few examples, while some failed, others succeeded and today are famous.
The existence of this co-working space and technological incubator in the heart of the capital city will hopefully give young people the platform needed to bring some promising ideas to life in the near future thus heralding a bright new year ahead.
Apart from celebrating the inauguration of FiiRe Work at Don Bosco College, Panjim, the day also marked the 75th anniversary of the Salesian presence in Panjim. Director, Don Bosco College of Engineering and FiiRe, Father Kinley D'Cruz, emphasized the need for innovators to help improve things and add value to life. Quoting Rabindranath Tagore, he expressed how innovators need to take painstaking efforts to achieve results.
After the ceremonial watering of a plant, the two new startups signed their contracts and were offered financial support to develop their ideas further. Also present at the inauguration ceremony were Rector Don Bosco Panjim, Father Avin Carvalho, Vice-Provincial, Father Clive Telles, Director DBC Panjim, Father Joaquim Lobo, Principal Dr Cedric Silveira, Rector Don Bosco Fatorda, Father Paul D'Souza and Principal DBCE, Dr Neena Panandikar, along with the core members of FiiRe, Fatorda and the staff of Don Bosco College, Panjim.
Source: Salesians of Don Bosco, Province of Panjim, Goa