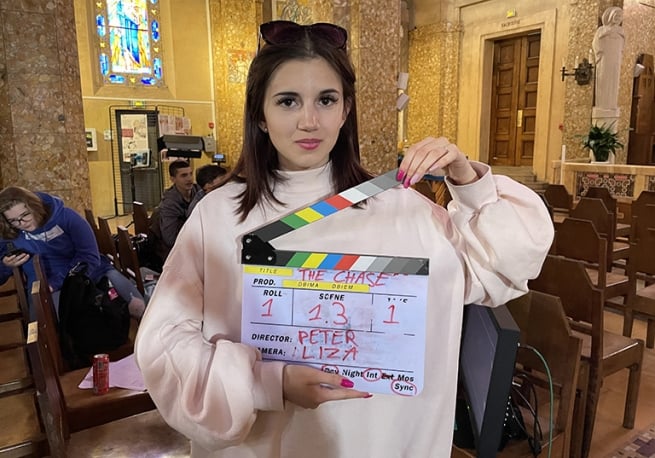 (Don Bosco International Media Academy, Paris) – At the "Don Bosco International Media Academy" (DBIMA) in Paris, creativity and exchange are at the heart of learning processes. From April 19 to 21, students from Budapest, Hungary, and Manchester, UK, participated in an exchange, carried out under the European project Erasmus+, which allowed them to develop their creativity and learn in a different way.
Eight schools in the UK, Hungary, Bulgaria, and France are participating in the EU's Erasmus+ program with the aim of allowing pupils and teachers to learn film and video techniques at DBIMA: "Teachers, in particular, asked to be trained in video because this tool is not widely used in schools; they feel they do not have the same digital dexterity as pupils, even if they know the content for their lessons. The teachers thus perceive the decline in student motivation, especially for the written word; while investing in the formidable potential of video allows more students to refocus," explains Didier Soubrier, Director of Studies at DBIMA.
During the three-day training, five students and two teachers from the two schools learned the basics of filmmaking: "They learn without even realizing they are learning, through the simple creation and processing of videos."
Odile Jenvrin, a teacher at the Lemonnier Institute, a Salesian house in Caen, and coordinator of the Association of Don Bosco Houses (AMDB, in French), and Didier Soubrier, who coordinates the Erasmus exchanges, wanted to offer the pupils an opportunity to break out of the classic patterns of learning.
This gives pupils great motivation because it's a change from what is asked of them at school. We open a door to general culture that they didn't expect: from being mere consumers of videos, they become involved in the creative process. They realize that they are learning to develop their critical eye and that this will allow them to grow.

– Odile Jenvrin
Each Erasmus meeting has a specific audiovisual theme: screenplay, location scouting, editing, sound (dubbing, etc…), always with a very practical approach, focused on technical aspects. And at each meeting, there is also a shooting day. From this shooting day, a tutorial is created on a topic related to filmmaking, and in all, twelve video tutorials will be created, to learn how to make a film from start to finish.
"Making a film involves fifty or so technical skills! These video-tutorials allow students to learn and express themselves, but also to share their skills," continue those responsible for the initiative.
Distributed through MOOCs (free online courses), they are accessible to all, to give the basics to those who could not enroll in a film school, who do not dare, who live too far away… "Exchanges and tutorials unlock situations," conclude Didier Soubrier and Odile Jenvrin. "And if then some people who have seen the videos will feel like learning and exploring more, we will have won! With four meetings a year for two years, a new horizon will open up for many students!"
Blandine Lelté
Sources: ANS – "Agenzia iNfo Salesiana"