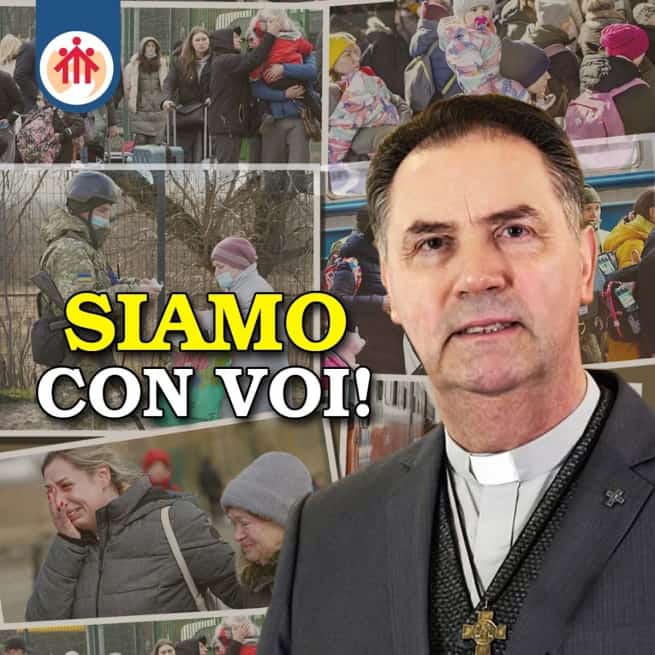 (ANS – Rome) – "In these days, we have undoubtedly suffered the pain of thousands and thousands of people. So many images of suffering and death have swept the world". The Rector Major, Fr. Ángel Fernández Artime, entrusts a new letter, sharing it with the Mother General of the FMA, Mother Chiara Cazzuola, and the World Coordinator of Salesian Cooperators, Antonio Boccia, expressing the pain that all of us are experiencing in the face of the war that has been affecting Ukraine for weeks.
In the face of this great suffering, solidarity on the part of the Salesians was continuous and did not stop, and in this new letter, the Rector Major loudly affirms
"We are with you and available in every necessity"
Keeping this in mind, the Rector Major, in this profound and intimate letter, wanted to thank all the countries that had welcomed the refugees with a great sense of brotherhood, even accommodating them in their homes, working with commitment and dedication for the good of those who are suffering the consequences of this war.
He recalls the many other conflicts that afflict the world, and whose "effects are always the same: devastation, forced migration, refugees and numerous deaths". In the letter, the Rector Major lists all the institutions, works, Salesian houses that are helping the Ukrainian population in this circumstance, with fundraising, delivery of necessities and mobilizations of every kind.
The Rector Major concludes his message by thanking all those in the Salesian Family who are working and reaching out during this time of emergency.
The full text of the letter is available – in Italian, English, Spanish, French and Portoguese – at the bottom of the page.
Letter in various languages:
• ITALIANO_-UCRAINA_2LETTERA_ALLA_FAMIGLIA_SALESIANA2_IT.pdf
• ENGLISH-UKRAINE_-REGARDING_THE_WAR_and_the_REFUGEE_DRAMA.pdf
• FRANCYAIS_-UCRAINE-_LETTRE__ALLA_FAMIGLE_SALESIEYNNE.pdf
• ESPANYOL-UCRAINA_CARTA_A_LA_FAMILIA_SALESIANA2_SPA.pdf
• PORTUGUES_-UCRANIA-_2_CARTA_A_LA_FAMILIA_SALESIANA.pdf
Source: ANS – "Agenzia iNfo Salesiana"