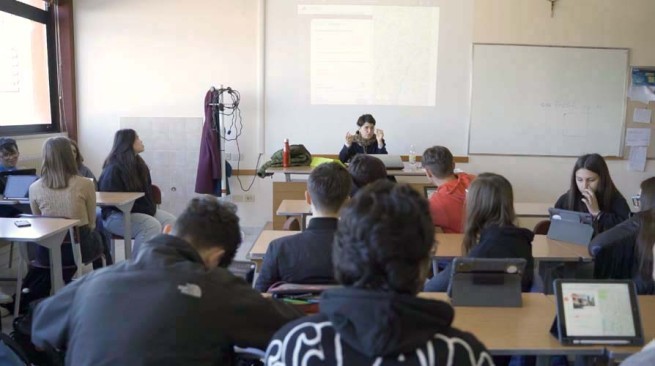 (Istituto Universitario Salesiano de Venezia, Italiy) – Students at the San Marco Institute (ISSM) and staff and researchers from the Pedagogy Faculty of the Salesian University Institute, Venice (IUSVE) have participated in recent months in an experimental project that uses the most modern computer technologies to promote active citizenship: the "We&Here" project.
"We&Here" is a project aimed at detecting the needs of young people in their local area, to encourage their active citizenship. It makes use of the "FirstLife" digital platform designed by the Department of Computer Science at the University of Turin, and in March and April 2023 it was tested on a couple of technical guidance third year classes at the ISSM. At the same time, a research process was established that provided for co-design work in which the developers at the Department of Computer Science at the University of Turin ( for the technological part) and the Pedagogy Faculty at the IUSVE (for the educational part) collaborated.
The experiment took place in tandem regarding both the in-person exploration of active citizenship pathways within the urban setting in Mestre, and digital territories of the future thanks to the "FirstLife" platform experiment. During the different workshop sessions, the young participants expressed their view of the area, their fears, their needs regarding mobility and autonomy.
"Ours was not only a research and experimentation operation" said Marco Emilio, coordinator of the baccalaureate/three-year degree courses in Pedagogy at the IUSVE and the reference person for the project, but it was even able to modify the technology placed at the service of the civic education curriculum. In fact we requested and obtained particular modifications of the 'FirstLife' platform regarding the need to clarify needs of the young people who took part in the project."
The ISSM students also met with the Councillor for the Venice Municipality, Laura Besio, and Giovanni Braga, manager, to present the work of mapping their needs in the area in which they live and offer them proposals for improvement.
"We have helped the young people to combine literature, art and values that have contributed in the past to good and bad government," explained Mauro Cassiani, teacher of Italian and coordinator of civic education courses at ISSM "and we have helped them to enter into a social and political relationship with their local area, showing them that they can converse with people who have responsibility and can make decisions."
A second phase of this project will open in the 2023/24 academic year. It will investigate how blockchain technologies can develop a circular economy and local involvement.
Source: ANS – "Agenzia iNfo Salesiana"